Global Connected Aircraft Market - Trends and Forecasts upto 2015-2020
" "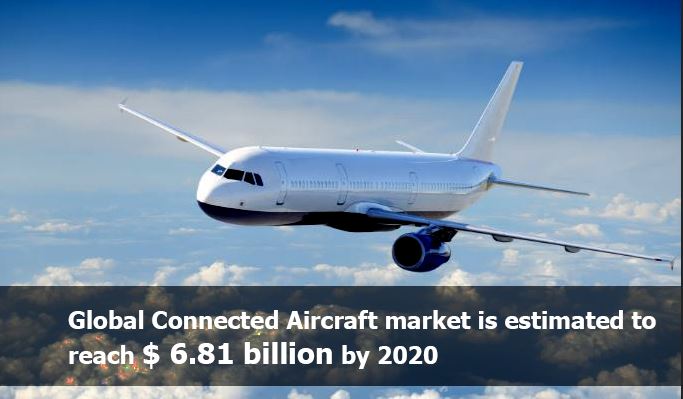 Global connected aircraft market is on an upward trend thanks to soaring demand of in-flight internet by air passengers. From one route one passenger, today the sector supports 50,000 routes and carries more than 3 billion passengers globally. By 2030, it is estimated that the passenger aircraft fleet size will be almost double than the present size.

"The Global Connected Aircraft market is estimated to reach $ 6.81 billion by 2020.The market is supported by the growth in number of global air passengers and growing demand for inflight connectivity services such as inflight Wi-Fi especially from the business class and millennials," states Infoholic Research.

Request a sample of this report

@ https://www.infoholicresearch.com/request-a-sample-report/?repid=1616

The connected aircraft market is also supporting the growth of the related market such as of software development, content developers, game developers, gaming device manufacturers, e-magazines, hospitality and retail sectors.

"The global connected aircraft market is presently leading in the developed economies such as North America and Europe. It is expected that by 2020, Asia Pacific excluding Japan will be one of the biggest connected aircraft market due to the growing demand and growing number of air passengers," opined Tariq Shaik, Research Operations.
Purchase a copy of the report on Global Connected Aircraft Market - Trends & Forecasts, 2015-2020
@
 https://www.infoholicresearch.com/report/global-connected-aircraft-market-trends-forecast-2015-2020/
Few highlights of the Global Connected Aircraft Market:


From seat centric entertainment systems slowly the market is shifting towards the light weight, technology friendly Tablets. In other words, portable entertainment devices are slowly replacing the seat centric systems.


On demand Audio-Video services is becoming one of the popular passenger entertainment services.


The upcoming connected aircraft services are On-board infotainment services and live telecast of news and sports inside the aircraft.


The new connectivity technologies such as Ka and ku band are helping airlines to provide high speed inflight internet and are growing at a CAGR of 40.2% and 30.7% respectively.


The North America market has the largest market share of 28.0% in the global connected aircraft market.


US, Germany and China are one of the leading connected aircraft markets in their respective regions i.e.  North America, Western Europe and Asia Pacific excluding Japan.


Contact: