Global Cloud Based Manufacturing Market to reach $131.15 billion by 2022 at a CAGR of 22.9%
" "
Increasing adoption of smart connected devices in manufacturing industries and enterprise mobile technology improves the strength of the market. The public cloud holds more than 50% of the market share for overall cloud based manufacturing market in 2016, while hybrid cloud holds 16% of the market share.

Infoholic Research LLP, a global market research and consulting organization, has published a study titled "Worldwide Cloud based Manufacturing Market: Drivers, Opportunities, Trends, and Forecasts, 2016–2022" (July 2016).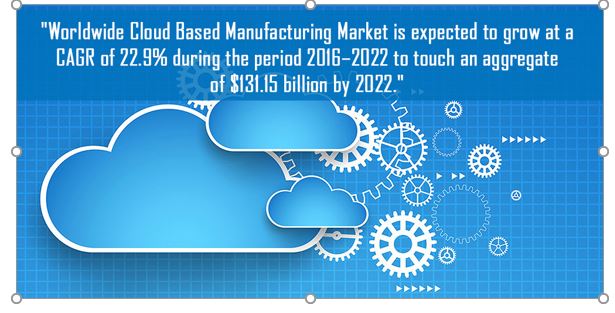 According to Infoholic Research, the increase in IoT technology and big data in manufacturing industries will have an impact on the growth of cloud based manufacturing market. Globally, cloud technology is set to be one of the key elements for manufacturing firms to increase their business activities and reduce the operational costs. Moreover, manufacturers are continuing to adopt the smart devices in their business (internal and external) and raising the spending on cloud technology, IoT technology, big data, etc. The market is expected to grow at a CAGR of 22.9% during the period 2016–2022 to touch an aggregate of $131.15 billion by 2022.

Request a sample of this report

@  https://www.infoholicresearch.com/request-a-sample-report/?repid=2809

The cloud based manufacturing market is analyzed based on four segments: deployment types with service models, enterprise type, industries type, and regions.

"Cloud adoption for manufacturing has provided a breathing space to manufacturers, who used to completely focus on operations such as sales, marketing, etc. Moreover, manufacturers are benefitted by single platform for tracking and managing direct & indirect sale channels effectively. Thus, has made vendors to focus more on investing & launching of products than that of internal & external operations." – Jaydeep Bhattacharjee – Group Head at Infoholic Research.

The SMEs are also realizing the benefits of the cloud technology adoption in their operations. Thus, the SMEs are moving towards the cloud adoption, which will help them to expand their business level, improve customer base, and productivity. The lack of skilled resources, infrastructure issues and investment are some of the challenges in the SME sector. But in the next few years, SMEs are expected to take the lead in the cloud based  manufacturing market. The larger enterprise revenue is $24.38 billion in 2016.

As per the industries analysis, discrete industries are expected to outperform and are contributing more than 60% of the market share for Cloud based manufacturing market growth followed by process industries. In discrete industries, Automotive and Semiconductors & Electronics industries are contributing more than 50% market share followed by Aerospace & Defence and FMCG. In the manufacturing industry, IIoT, Industry 4.0, IoT, driverless cars, connected vehicles and various new concepts are changing the business. In the manufacturing industry, players are investing in IoT technology, big data and analytics to capture revenue, increase their business activities, improve the customer expectation and to increase the customer base.

The report contributes in many parameters on cloud types and structure. Let example Hybrid cloud SaaS mainly helps in managing software and its deployment to third-party services.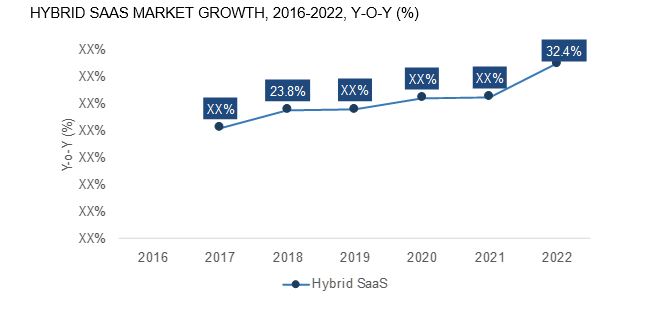 Hybrid SAAS market as per Infoholic will touch an insightful growth of 32.4% (Y-O-Y) by 2022. It is seen highly positive for many cloud computing giants.

According to the market study, Americas is the leading region for Cloud based manufacturing followed by Europe and Asia Pacific. The US, Canada, Mexico and Brazil countries are expected to support the Americas' market growth. Asia Pacific holds handsome business opportunities in the Cloud based manufacturing  market. Further, increasing spending on cloud deployments, service models, adoption rate of IoT technology in internal and external manufacturing firms, big data footprints and government initiatives related to manufacturing developments are the major key elements expected to drive the Cloud based manufacturing  market growth in the coming years.

"In current scenarios, cloud technology is set to be the primary element in larger enterprises and SMEs. The larger enterprises are continuing to contribute the major market share for Cloud based manufacturing followed by SMEs. Hybrid cloud adoption rate is expected to increase in the upcoming years." – Bhavya H, Senior Research Analyst at Infoholic Research.

 Purchase a copy of the report on Worldwide Cloud based manufacturing Market  

@ https://www.infoholicresearch.com/report/worldwide-cloud-based-manufacturing-market-drivers-opportunities-trends-and-forecasts-2016-2022/

 Report Scope:



The report provides complete details about the cloud adoption in the manufacturing market


Markets are analysed by


Deployment model – private, public, hybrid, and service models – IaaS, PaaS, and SaaS


Organization size – larger enterprises and SMEs


Verticals – discrete and process industries


Regions – Americas, Europe, Asia Pacific and the Middle East & Africa (MEA). Further, the region market is analyzed country wise – the US, Canada, Mexico, Brazil, the UK, France, Germany, Poland, Turkey, Russia, South Korea, India, China, GCC Countries and Africa


The report covers drivers, restraints and opportunities (DRO) affecting the market growth over the forecast period (2016–2022)


It also contains analysis of vendor profiles, which include financial health, business units, key business priorities, SWOT, strategy, and views


The report covers competitive landscape, which includes mergers and acquisitions, joint ventures and collaborations, and competitor comparison analysis


In vendor profile section, for the companies that are privately held, financial information and revenue of segments will be limited


Further, the report also aims to cover the below points:


Cloud based manufacturing market analyzed based on deployment types: public, private and hybrid cloud with SaaS, PaaS, and IaaS


Covers the industry segments including discrete and process industries. Discrete industries include Automotive, Semiconductor & Electronics, FMCG, Aerospace & Defense and Others. Process industries include Oil & Gas, Chemical, Food & Beverages and Others


An in-depth analysis of the emerging regions and verticals for cloud adoption in the next 6–7 years


Usage and adoption rate of various cloud deployment types with service models in each industry verticals


Provides an in-depth analysis of the key business opportunities in regions


Provides industry outlooks including current and future market trends and drivers, restraints and emerging technologies


Analyzes the market by four distinct geographical regions – Americas, Europe, Asia Pacific, and the Middle East & Africa. Further, market is analyzed by countries – the US, Canada, Mexico, Brazil, Germany, Turkey, Poland, Russia, Franck, the UK, India, China, South Korea, GCC, Africa, and Others


About Infoholic Research
Infoholic Research is a global market research and consulting organization providing strategic and high-level market intelligence in emerging and niche technologies. Founded in 2014, we are headquartered in India with an office in the US and with consultants working across the globe. Our market analysis powered by rigorous methodology and quality metrics provides information and forecast across all the emerging markets, technologies and business models. We aim at delivering high-quality results to our clients providing them with in-depth industry insights to identify new business opportunities and nurture their business strategies. For more information, please visit
www.infoholicresearch.com
 Contact: