LED Lighting: Making change in people's lives in Vietnam
" "
With its recently published study "Vietnam Light Emitting Diodes (LEDs) Market: Drivers, Opportunities, Trends, & Forecast: 2015–2022", Infoholic predicts that Vietnam's LEDs market will continue to witness high growth with high government support, increasing corporate investments, and rapid urbanization. The fast developing Vietnam economy has faced many setbacks and problems including hikes in electricity prices.
The technologically advanced LEDs, which work on only a fraction of power as compared to traditional light sources such as halogen lights and incandescent lamps, are viable option for reducing the consumer budget via reducing the power consumption. The government initiatives to replace the traditional light sources with LED products has resulted in high growth in LED market in Vietnam. Further, this growth has lured many domestic and multinational companies to Vietnam LED lighting market. On the consumer front, the economic growth has not only increased the affordability of LED products via increasing disposable income but has also increased demand for lighting products in new urban areas. Owing to all these factors, LEDs market in Vietnam is expected to grow at a CAGR of 15.6% during the forecast period 2016–2022.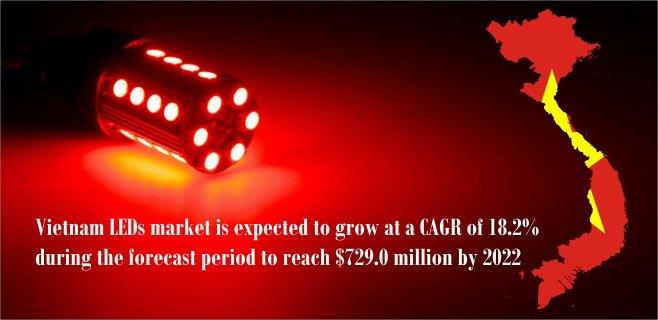 In terms of segment, lighting segment is expected to contribute the most towards LED market growth during the forecast period owing to heavy investment and support from the government for replacement of traditional lights.
Request a sample of this report
@ https://www.infoholicresearch.com/request-a-sample-report/?repid=3949
"Vietnam's economy is growing with more than 6% average growth rate over the last 10 years. This has resulted in the increased power demand by consumers and caused price hikes for electricity and other resources. LED products provide suitable option as they need just fraction of power for similar luminance. Also, domestic manufacturing, decreasing LED prices, and increasing disposable income have made LED lighting products much more affordable now. This has provided consumers with options to use LEDs to reduce power bills." – KR Sreenivasan, CEO of Infoholic Research.
"
LED based lighting is not only reducing the power consumption but also enabling authorities to route power for industrial sectors where same can be used for economic development, which further boosts the economic growth. Also, the increasing investments from multinational companies are ensuring increased employment and technical expertise, which can further be utilized to cater to potential export markets for LED products. Vietnam already has a stable and long trade relationship with China which can help in establishing the LED product manufacturing facilities in the country via ensuring stable supply of LEDs (chips). Thus, we can say that LED industry is expected to change the future scenario of Vietnam.
" – 
Somnath Das, Senior Consultant of Infoholic Research.
Key insights of the report


Vietnam's LEDs market is analyzed application wise




Lighting




Indoor and Outdoor


Bulbs, Street Lights, and Spot Lights







Displays and Backlights


Mobile Devices


Signs & Boards


Others (largely automotive)







Industry outlook: market trends and drivers, restraints, and opportunities


Purchase a copy of  Vietnam Light Emitting Diodes (LEDs) Market – Drivers, Opportunities, Trends & Forecasts: 2015–2022
@ https://www.infoholicresearch.com/report/vietnam-led-market-report-2015-2022/
Contact: