Global Over the Counter Drugs Market 2018–2024
March, 2018

Domain:

Healthcare

-

Pharmaceuticals
Pages:
83
Tables:
36
Charts:
21
Regions/Countries:
0
Companies:
12
Enquiry Hours:
10
Get

Free 10% Customization

in this Report
Overview
: Over-the-counter medications, also known as non-prescription drugs, are the medicines that can be procured without a prescription from the doctor. When the directions on the label are followed, these drugs are harmless and effective. These drugs are principally used for the treatment of the health conditions that can be self-medicated.
OTC drugs are measured by government regulatory associations to be harmless for self-medication. According to Food and drug administration (FDA), there are more than 300,000 OTC drug product are marketed. Some of the common applications of OTC drugs are aches, pains, itches and others.
Merger and acquisition has always been a trend in the pharmaceutical industry. Recently in 2018 January, J&J, GlaxoSmithKline and Reckitt Benckiser are on race to buy Pfizer's $20 billion consumer. However, the final two competitors for the bid are GSK and Reckitt Benckiser. Other major trend in the market are product launch and approval, collaboration and business expansion. In July 2017, Glenmark gets MHRA approval for OTC sale of anti-malarial drug in Europe.
Market Analysis
: The "Global Over the counter drugs" market is estimated to witness a CAGR of 6.1% during the forecast period 2018–2024. The over the counter drugs market is analyzed based on two segments –product types, and regions.
Regional Analysis
: The regions covered in the report are North America, Europe, Asia Pacific, and Rest of the World (ROW). North America accounts for the largest share of the global over the counter drugs market, followed by Europe, Asia Pacific, and Rest of the World.
Product Types Analysis: 
The OTC drugs demand for cold, cough and allergy will involve the classical seasonal drift, driving a stable progress during the forecast period. However, OTC drugs used for weight loss, smoking cessation and sleeping aid are on great demand in established regions. Many small manufacturers are establishing in these segment with their innovative products to have a strong foot hold. From the time of switching nicotine replacement therapies as OTC products, there was nearly 150% -200% increase in their procurement and usage in the initial year after the switch. Amplified access permitted many smokers to help quit smoking saving nearly $2 billion every year.
Key Players
: Major players operating in the OTC market include Bayer AG, GlaxoSmithKline Plc., Johnson & Johnson, and Sanofi, are the major players of the market. Teva Pharmaceutical Industries Ltd., Pfizer, Synergy Pharmaceuticals Inc, Innovus Pharmaceuticals, Procter & Gamble Company, Merck & Co, Takeda Pharmaceutical Co, Ltd, Boehringer Ingelheim GmbH and Sun Pharmaceutical Industries Ltd.
Competitive Analysis
: Online sales of Over the counter drugs are transforming the market, intimidating major OTC drugs manufacturers and permitting small companies to obtain their share in the market. Aleve by Bayer is one of the best-selling drug in America with a revenue of $485 million in sales in 2016. But there was a drop-in sale by 10% in 2017. This was due to the availability of alternative drugs online from small manufacturers. This shows that the power is gradually shifting toward e-commerce, making it difficult for the major players.
Nevertheless, small companies are also facing patent litigation issues, making their entry more difficult into the market. For instance, Bayer AG filed a patent litigation against Perrigo Company plc's Finacea Foam in the US district court in February 2018.
Benefits
: The report provides complete details about the usage and adoption rate of over the counter drugs in various regions. With that, key stakeholders can know about the major trends, drivers, investments, and vertical player's initiatives. Moreover, the report provides details about the major challenges that are going to impact on the market growth. Additionally, the report gives the complete details about the key business opportunities to key stakeholders to expand their business and capture the revenue in the specific verticals to analyze before investing or expanding the business in this market.
Key Stakeholders
: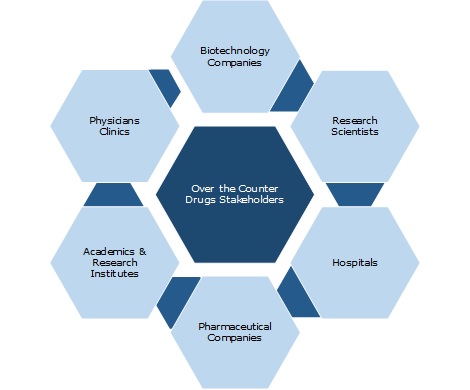 1. Industry Outlook

1.1. Industry Overview

1.2. Industry Trends

2. Report Outline

2.1. Report Scope

2.2. Report Summary

2.3. Research Methodology

2.4. Report Assumptions

3. Market Snapshot

3.1. Market Definition – Infoholic Research

3.2.  Total Addressable Market (TAM)

3.3 Segmented Addressable Market (SAM)

3.3.1 Difference between OTCs and prescription (Rx) medicines

3.3.2 Trends of over the counter drug market

3.4 Related Addressable Markets (RAM)

3.4.1 Oncology (Cancer) Drugs

3.4.2 Active pharmaceutical ingredients (APIs)

3.4.3 Diabetes Drugs Market

4 Market Outlook

4.1  Regulatory Scenario

4.1.1  US:

4.1.2  Europe:

4.1.3  Japan:

4.1.4  Turkey

4.2  Market Segmentation

4.3  Porter 5(Five) Forces

4.4  PEST Analysis

5  Market Characteristics

5.1  Market Dynamics

5.1.1  Drivers

5.1.1.1  Conducive government legislation

5.1.1.2  Switching of Rx drugs to OTC drugs

5.1.1.3  Cost-effective OTC drugs

5.1.2  Opportunities

5.1.2.1  A growing pain category

5.1.2.2  An increase in self-care

5.1.3  Restraints

5.1.3.1  Incorrect self-diagnosis

5.1.3.2  Side Effects and Misuse of Over the Counter Drugs

5.1.4  DRO – Impact Analysis

5.1.5  Key Stakeholders

6  Product Types: Market Size and Analysis

6.1  Overview

6.1.1  Cold, Cough and Allergy

6.1.2  Analgesics

6.1.3  Dermatology OTC Drugs

6.1.4  Gastrointestinal OTC Drugs

6.1.5  Ophthalmic OTC drugs

6.1.6  Vitamins and Minerals Supplements

6.1.7  Others

7  Regions: Market Size and Analysis

7.1  Overview

7.2  North America

7.2.1  Overview

7.3  Europe

7.3.1  Overview

7.4  APAC

7.4.1  Overview

7.5  Rest of the World

7.5.1  Overview

8  Competitive Landscape

9  Vendor Profiles

9.1  Sanofi

9.1.1  Overview

9.1.2  Geographic Revenue

9.1.3  Business Focus

9.1.4  SWOT Analysis

9.1.5  Business Strategy

9.2  Bayer AG

9.2.1  Overview

9.2.2  Business Unit

9.2.3  Geographic Presence

9.2.4  Business Focus

9.2.5  SWOT Analysis

9.2.6  Business Strategy

9.3  Johnson & Johnson

9.3.1  Overview

9.3.2  Business Units

9.3.3  Geographic Revenue

9.3.4  Business Focus

9.3.5  SWOT Analysis

9.3.6  Business Strategies

9.4  GlaxoSmithKline plc

9.4.1  Overview

9.4.2  Geographic Presence

9.4.3  Business Focus

9.4.4  SWOT Analysis

9.4.5  Business Strategy

10  Companies to Watch For

10.1  Pfizer Inc.,

10.1.1  Overview

10.1.2  Highlights

10.2  Synergy Pharmaceuticals Inc

10.2.1  Overview

10.2.2  Highlights

10.3  Innovus Pharmaceuticals

10.3.1 Overview

10.3.2 Highlights

10.4 Procter & Gamble Company

10.4.1 Overview

10.4.2 Highlights

10.5 Sun Pharmaceuticals.

10.5.1 Overview

10.5.2 Highlights

10.6 Merck & Co.

10.6.1 Overview

10.6.2 Highlights:

10.7 Takeda Pharmaceutical Co, Ltd

10.7.1 Overview

10.7.2 Highlights:

10.8 Boehringer Ingelheim GmbH

10.8.1 Overview

10.8.2 Highlights:

Annexure

Abbreviations
Research Framework
Infoholic research works on a holistic 360° approach in order to deliver high quality, validated and reliable information in our market reports. The Market estimation and forecasting involves following steps:
Data Collation (Primary & Secondary)
In-house Estimation (Based on proprietary data bases and Models)
Market Triangulation
Forecasting
Market related information is congregated from both primary and secondary sources.
Primary sources
involved participants from all global stakeholders such as Solution providers, service providers, Industry associations, thought leaders etc. across levels such as CXOs, VPs and managers. Plus, our in-house industry experts having decades of industry experience contribute their consulting and advisory services.
Secondary sources
include public sources such as regulatory frameworks, government IT spending, government demographic indicators, industry association statistics, and company publications along with paid sources such as Factiva, OneSource, Bloomberg among others.