Octane Improvers Market By Additive Type (Ethanol, MTBE, Methanol and Others), By End-User (Automotive, Marine & Aviation and others) and By Geography – Global Driver, Restraints, Opportunities, Trends, and Forecast to 2023
February, 2018

Domain:

Chemicals, Materials & Food

-

Specialty Chemicals
Pages:
115
Tables:
68
Charts:
56
Regions/Countries:
4 / 9
Companies:
10
Enquiry Hours:
10
Get

Free 10% Customization

in this Report
Octane improver is a fuel additive use to improve the efficiency of the fuel and enhance its quality as well.  Octane improver comes under oxygenate category, as it increase gasoline's octane rating or act as corrosion inhibitors or lubricants. This helps in maintaining higher compression ratios for greater efficiency and power.  
Research Methodology
The octane improvers market has been analyzed by utilizing the optimum combination of secondary sources and in-house methodology along with an irreplaceable blend of primary insights. The real-time assessment of the market is an integral part of our market sizing and forecasting methodology, wherein our industry experts and panel of primary participants helped in compiling the best quality with realistic parametric estimations. Further, the participation share of different categories of primary participants is given below: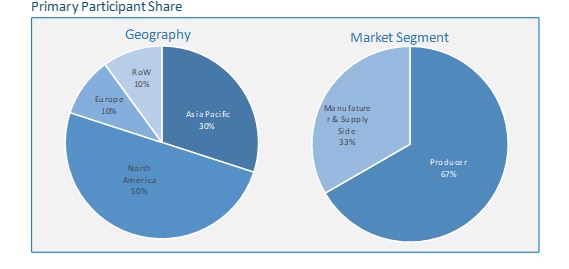 Key Market Insights
This technology created a revolution in fuel and its storage industry as this has provided a long-term benefit at low cost. The increasing concern toward environment protection, where fuel consumption is a major issue, provides a promising growth potential for the octane improver market, that has the maximum demand. The market has an advantage of its properties, that helps in increasing its fuel efficiency, and environment improvement. The high demand for this is coming from the US and European countries for the advanced technologies in passenger vehicles.  This gives North America a lead in the global octane improver market. Apart from this, European countries are also developing high demand, following North America, owing to the higher consumer acceptance and high demand from the automotive and marine sector. Asia Pacific followed Europe and accounts for the third largest market for octane improver with the presence of large petrochemical industry and the presence of big Chinese market.
Within various end-user areas, automotive is highly dominating the market in overall octane improver across regions owing to the high adoption rate and presence of large consumer base. Other than automotive, the marine & aviation industry is also increasing its market during the forecast period due to increasing investments and R&D innovations along with government interventions.
The study of the global octane improver market provides market size information and market trends along with the factors and parameters impacting the market in both short- and long-term. The study ensures a 360° view, bringing out the complete key insights of the industry. These insights help the business decision-makers to make better business plans and informed decisions for the future business. In addition, the study helps venture capitalists in understanding the companies better and take informed decisions.
[caption id="attachment_11727" align="aligncenter" width="900"]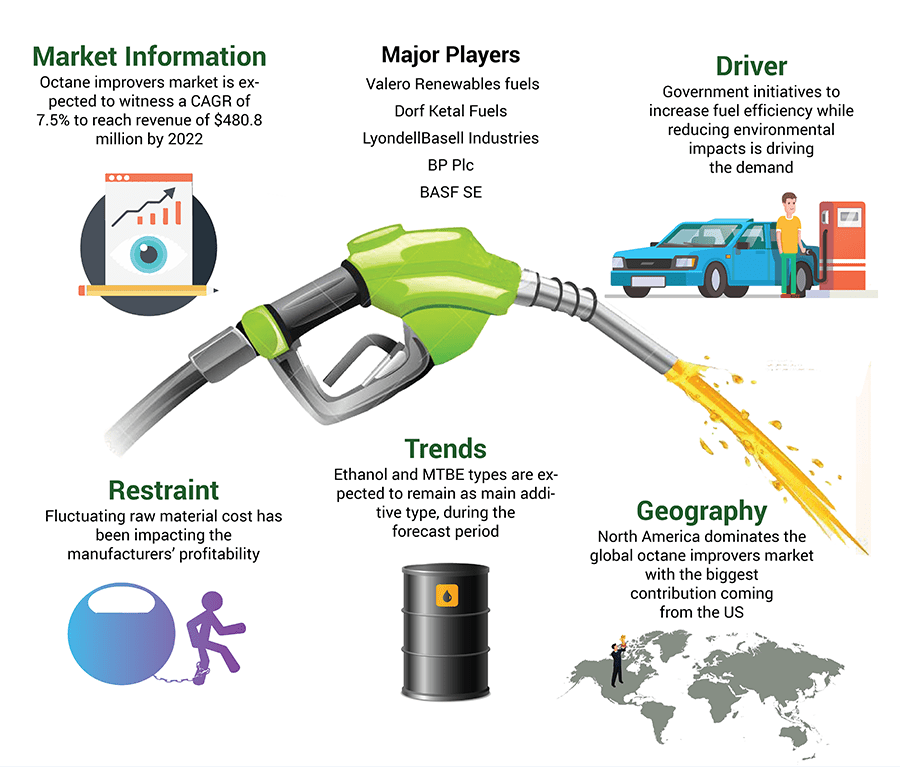 Octane Improvers Market[/caption]
According to Infoholic Research, the global octane improver market is expected to grow at a CAGR of 7.5% during the forecast period 2016–2023 to reach $480.8 million by 2023. Ethanol and MTBE types are expected to remain as main additive type, during the forecast period.  Some of the key players in the octane improver market are Valero Renewables fuels, Dorf Ketal Fuels, LyondellBasell Industries, BP Plc, BASF SE etc.
Report
Scope
:


Additive Types



Ethanol


MTBE


Methanol


Others


 



End-users



Automotive


Marine & Aviation


Others


 



Regions



North America


Europe


Asia Pacific


Rest of the World


 



Industry outlook: Market trends, drivers, restraints, and opportunities


 


Report Outline



1.1 Introduction


1.2 Report Scope


1.3 Market Definition


1.4 Research Methodology



1.4.1 Data Collation & In-house Estimation


1.4.2 Market Triangulation


1.4.3 Forecasting


 



1.5 Study Declaration


1.6 Report Assumptions


1.7 Stakeholders


 



Executive Summary



2.1 North America is Measuring a Successful Growth with Growing Domestic Consumption and Utilization


2.2 Improving and Increasing automotive solutions Creates a Surge in the overall transportation Industry


 



Market Positioning



3.1 Total Addressable Market (TAM): Fuel Additives



3.1.1 Market Overview


3.1.2 Major Trends


 



3.2 Segmented Addressable Market


3.3 Related Markets


 



Market Outlook



4.1 Overview


4.2 Value Chain Analysis


4.3 PESTLE Analysis


4.4 Porter 5 (Five) Forces


4.5 Patent Analysis


 



Market Characteristics



5.1 Market Segmentation


5.2 Market Dynamics



5.2.1 Drivers



5.2.1.1 Increasing utilization for gasoline and its additives in marine, oil & gas industries benefit the market


5.2.1.2 Stringent regulations and quality enhancements for fuels are primarily driving the demand for octane improvers


 



5.2.2 Restraints



5.2.2.1 Fluctuation in the price of raw material for octane improver ad versing the market growth


5.2.2.2 Innovation of alternative fuel vehicles dampen the growth of the market


 



5.2.3 Opportunities



5.2.3.1 The constant focus and ongoing innovations in the specialty fuel additive, augment the future growth.


5.2.3.2 Large potential markets in the developing and underdeveloped economies


 



5.2.4 DRO – Impact Analysis


 



 



Additive Types: Market Size and Analysis



6.1 Overview


6.2 Ethanol


6.3 MTBE


6.4 Methanol


6.5 Vendor Profiles



6.5.1 Valero Renewable Fuels Company, LLC


6.5.2 Dorf Ketal Chemicals


6.5.3 LyondellBasell Industries N.V.


6.5.4 BP Plc


6.5.5 BASF SE


 



 


( Overview, Business units, Geographics revenues, Product profile, Recent developments, Business focus, SWOT analysis and business strategies have been covered for all the vendors )


 End-users: Market Size and Analysis



7.1 Overview


7.2 Automotive


7.3 Marine & Aviation


7.4 Customers Profile



7.4.1 Royal Dutch Shell plc


7.4.2 China Petroleum & Chemical Corporation (Sinopec)


7.4.3 Hindustan Petroleum Corporation Limited (HPCL)


7.4.4 Exxon Mobil Corporation


7.4.5 Chevron Corporation


 



 


(Overview, business units, geographics revenues, SWOT analysis and business strategies have been covered for all the vendors)


Regions: Market Size and Analysis



8.1 Overview


8.2 North America


8.3 Europe


8.4 Asia Pacific


8.5 Rest of the World


 


(Segmental coverage of by geography, by additive types, and by end-user have been covered for each region)


Companies to Watch for


 

9.1        Tesla, Inc.: Overview

9.1.1     Tesla Launched electric cars that gives strong competition to the fuel additive industry

9.2        DorfKetals formulation of octane booster enhance the octane level of gasoline

10   Competitive Landscape 

10.1     Competitor Comparison Analysis

10.2     Market Landscape

10.2.1  Mergers, Acquisitions & Joint Ventures

10.2.2  Expansion

10.2.3  Exhibition & Product Launch

10.2.4  Agreement & Partnership

10.2.5  Divesture & Divestment

10.2.6  Spin-Off

11   Expert's Views

Annexure 

Abbreviations
Research Framework
Infoholic research works on a holistic 360° approach in order to deliver high quality, validated and reliable information in our market reports. The Market estimation and forecasting involves following steps:
Data Collation (Primary & Secondary)
In-house Estimation (Based on proprietary data bases and Models)
Market Triangulation
Forecasting
Market related information is congregated from both primary and secondary sources.
Primary sources
involved participants from all global stakeholders such as Solution providers, service providers, Industry associations, thought leaders etc. across levels such as CXOs, VPs and managers. Plus, our in-house industry experts having decades of industry experience contribute their consulting and advisory services.
Secondary sources
include public sources such as regulatory frameworks, government IT spending, government demographic indicators, industry association statistics, and company publications along with paid sources such as Factiva, OneSource, Bloomberg among others.