Methanol Market By Applications (Formaldehyde, MTBE/TAME, Fuel Blending, Acetic Acid, MTO, DME, Biodiesel and Solvents) and By Geography – Global Drivers, Restraints, Opportunities, Trends, and Forecast to 2023
March, 2019

Domain:

Chemicals, Materials & Food

-

Petrochemicals
Pages:
102
Tables:
61
Charts:
34
Regions/Countries:
4 / 9
Companies:
11
Enquiry Hours:
10
Get

Free 10% Customization

in this Report
Methanol Market Overview

Methanol is one of the basic chemicals which is prepared utilizing various feedstocks including shale gas, crude oil, and coal. It is utilized in various applications with major end-use focused around fuel blending and chemicals manufacturing. Dynamic feedstock market and changing geopolitical scenarios are changing the market pattern and guiding organizations to be more agile and innovative to combat the changing terms.

Research Methodology

The methanol market has been analyzed by utilizing the optimum combination of secondary sources and in-house methodology along with an irreplaceable blend of primary insights. The real-time assessment of the market is an integral part of our market sizing and forecasting methodology. Our industry experts and panel of primary participants have helped in compiling relevant aspects with realistic parametric estimations for a comprehensive study. The participation share of different categories of primary participants is given below: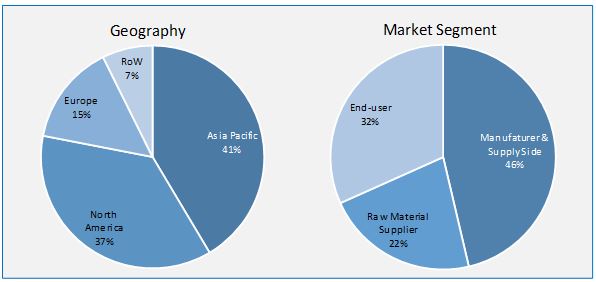 Key Market Insights

The methanol enters the fuel stream either via direct blending or via octane improvers such as methyl tertiary butyl ether (MTBE). The methanol is also utilized for biodiesel adding the volume for fuel. The biggest portion of global methanol and its derivatives ends up in chemical manufacturing either as feedstock or as solvent. The chemical derivatives from methanol covers a range of varieties including resins for paints & paperboard to engineering plastic for automotive, and solvents for fragrances to polyethylene terephthalate (PET) for bottles.

Currently the market is dominated by China which covers little less than two-third of the global market for methanol. Large downstream capacities have been added with methanol to olefins (MTO) expansions that has been kept China in leading position for methanol consumption. The US has been the second largest market with fuel blending supporting the traditional downstream capacities. The US market currently stands little less than 7% of the global market but is a significant market nevertheless. The market growth in developing countries and additional upcoming capacities in the US are expected to impact the trade scenarios for methanol. Trade relations among the US and China would be critical deciding factors in international pricing and trade flow.

The study of the global methanol market provides the market size information and industry trends along with the parameters and factors impacting it in both short- and long-term. The study also covers the competitive scenario of the market with respect to major players with their branding strategies and differentiating factors among others. The study ensures a 360° view, bringing out the complete key insights of the industry. These insights help the business decision makers to make better business plans and informed decisions for the future business. In addition, the study helps the venture capitalists and investment professionals in understanding the companies better and take informed decisions.

According to Infoholic Research, the global methanol market is expected to grow at a CAGR of 7.4% during the forecast period to reach $48.62 billion by 2023. Formaldehyde segment is expected to maintain its dominance in application segments, while fuel blending and MTO are expected to show higher growth rates than other segments. The crude oil price stabilization and Chinese advantage of domestic coal for olefin production would be critical for external methanol demand there.

Almost all the new capacities are focused in the US and China with objective of reaping benefits from cheap local feedstock. The prices in the methanol market may vary in short-term but are expected to stabilize in the next two years. Some of the prominent players in the global methanol market are Methanex, Saudi Basic Industries Corporation (SABIC), Sinopec, Lanxess, and Shin-Etsu.

Report Scope:

Methanol Market by Applications


Formaldehyde


MTBE/TAME


Fuel Blending


Acetic Acid


MTO


DME


Biodiesel


Solvents


Others


 

Methanol Market by Regions


Asia Pacific


Europe


North America


Rest of the World


 

Industry outlook: Market trends, drivers, restraints, and opportunities
1   Executive Summary 

1.1               China will Lead Asia Pacific's Extending Dominance

1.2               China Changing Market Trends with New MTO Capacities

2  Market Positioning 

2.1               Industry Snapshot

2.1.1           Industry Overview

2.1.2           Key Trends

2.2               Related Markets

3  Market Outlook 

3.1               Introduction

3.2               Value Chain Analysis

3.3               Market Segmentation

4  Market Characteristics 

4.1               PESTLE Analysis

4.2               Porter's Five Force Analysis

4.3               Market Dynamics

4.3.1           Drivers

4.3.1.1       Cleaner fuel driven demand via blending and alternative fuel options

4.3.1.2       Cheap feedstock availability in China and the US

4.3.2           Restraints

4.3.2.1       Crude oil price fluctuations impacting the methanol price & manufacturers' margins

4.3.2.2       Increasing nationalism and widening trade rift across geographies resulting in trade barriers

4.3.3           Opportunities

4.3.3.1       Fuel blending options in developing countries with upcoming stringent regulations

4.3.3.2       Increasing demand from high growth traditional applications in strategic geographies

4.3.4           DRO – Impact Analysis

4.4               Patent Analysis

5  Methanol Market, By Application/End-user

5.1               Overview

5.2               Formaldehyde

5.3               MTBE / TAME

5.4               Fuel Blending

5.5               Acetic Acid

5.6               Dimethyl Ether (DME)

5.7               Biodiesel

5.8               Solvents

6  Methanol Market, By Geography 

6.1               Overview

6.2               Asia Pacific

6.2.1           Asia Pacific Methanol Market, By Country

6.2.2           Asia Pacific Methanol Market, By Application

6.3               North America

6.3.1           North America Methanol Market, By Country

6.3.2           North America Methanol Market, By Application

6.4               Europe

6.4.1           Europe Methanol Market, By Country

6.4.2           Europe Methanol Market, By Application

6.5               Rest of the World

6.5.1           Rest of the World Methanol Market, By Region

6.5.2           Rest of the World Methanol Market, By Application/End-user

7   Competitive Landscape 

7.1               Competitive Regional Exposure Analysis

7.2               Growth Strategies Analysis

7.3               Market Developments

8  Vendor Profiles 

8.1               Methanex

8.2               Saudi Basic Industries Corporation (SABIC)

8.3               Sinopec

8.4               Lanxess

8.5               Shin-Etsu

(Overview, product profile, business units, geographic revenues, recent developments, business focus, SWOT analysis and business strategies have been covered for all the vendors)

9                   Customers Profile 

9.1               BASF SE

9.2               BP Plc

9.3               Momentive Performance Materials Inc.

9.4               Dynea AS

9.5               Perstorp Holding AB

(Overview, product profile, business focus, and SWOT analysis have been covered for all the customers)

10  Companies to Watch for 

11  Annexure 

11.1             Report Scope

11.2             Market Definition

11.3             Research Methodology

11.3.1         Data Collation & In-house Estimation

11.3.2         Market Triangulation

11.3.3         Forecasting

11.4             Study Declarations

11.5             Report Assumptions

11.6             Stakeholders

11.7             Abbreviations

12  Expert's Views
Research Framework
Infoholic research works on a holistic 360° approach in order to deliver high quality, validated and reliable information in our market reports. The Market estimation and forecasting involves following steps:
Data Collation (Primary & Secondary)
In-house Estimation (Based on proprietary data bases and Models)
Market Triangulation
Forecasting
Market related information is congregated from both primary and secondary sources.
Primary sources
involved participants from all global stakeholders such as Solution providers, service providers, Industry associations, thought leaders etc. across levels such as CXOs, VPs and managers. Plus, our in-house industry experts having decades of industry experience contribute their consulting and advisory services.
Secondary sources
include public sources such as regulatory frameworks, government IT spending, government demographic indicators, industry association statistics, and company publications along with paid sources such as Factiva, OneSource, Bloomberg among others.