Pigments Market By Type (Organic, Inorganic and Synthetic) By Applications (Paints & coatings, Textile, Printing ink, Plastic, leather) and By Geography – Global Drivers, Restraints, Opportunities, Trends and Forecast up to 2023
February, 2019

Domain:

Chemicals, Materials & Food

-

Paints & Coatings/Inks & Pigments
Pages:
93
Tables:
61
Charts:
64
Regions/Countries:
4/9
Companies:
11
Enquiry Hours:
10
Get

Free 10% Customization

in this Report
[93 pages report] The increase in the demand for organic pigments owing to the growing awareness is fostering the global pigments market growth. The companies are indulged in R&D activities to innovate and develop new products, which can open new paths of applications.

Pigments Market Research Methodology

The pigments market has been analyzed by utilizing the optimum combination of secondary sources and in-house methodology along with an irreplaceable blend of primary insights. The real-time assessment of the market is an integral part of our market sizing and forecasting methodology. Our industry experts and panel of primary participants have helped in compiling relevant aspects with realistic parametric estimations for a comprehensive study. The participation share of different categories of primary participants is given below: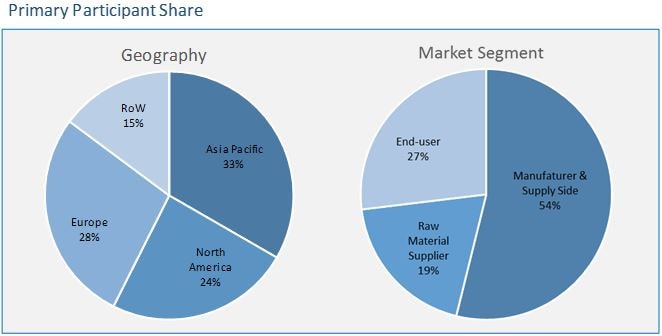 Key Market Insights

The increasing health concerns and awareness is leading the customers to be more cautious about the products being used and has led the customers to incline more toward organic pigments. The inclination is helping the overall pigments market to grow. The changing scenario of economies along with the increase in per capita income has improved the purchasing ability, thereby encouraging the customers to buy premium organic pigments that are costlier than synthetic pigments.

The increasing demand from end-use applications, such as paints & coatings, plastics, textile, and printing ink, is helping the market to grow. Colors play a significant role in the selection of products as they are appealing to the eyes. The increasing demand for aesthetics is leading toward growth. The increased growth in the application market will fuel the pigments market growth alongside.

Asia Pacific is dominant in the market owing to factors such as the booming economy, increasing investments, and growing population that are leading to increased consumption. The continuous focus of the manufacturer to innovate and come up with more effective and efficient products is fuelling the R&D efforts. The manufacturer has to keep upgrading and innovating in order to survive in the competitive market. Few of the prominent companies operating in the pigments market include BASF, LANXESS, Clariant, Huntsman, and Merck. Few of the major customers include PPG Industries, AkzoNobel, Ingredion, PepsiCo, and Sakata Inx Corporation.

Pigments Market by Types:


Organic


Inorganic


Synthetic




 
 
 

Pigments Market by Applications:


Paints & Coatings


Textile


Printing Inks


Plastics


Leather


Others




 
 
 

Pigments Market by Geography:


Asia Pacific


North America


Europe


Rest of the World




 
 
 
1     Executive Summary 

1.1            Asia Pacific Dominates in the pigments Market

1.2            Paint & Coatings Dominates the Market

2    Market Positioning 

2.1            Industry Snapshot

2.1.1        Industry Overview

2.1.2        Key Trends

2.2            Related Markets

3    Market Outlook 

3.1            Introduction

3.2            Value Chain Analysis

3.3            Market Segmentation

4    Market Characteristics 

4.1            PESTLE Analysis

4.2            Porter's Five Force Analysis

4.3            Market Dynamics

4.3.1        Drivers

4.3.1.1    Growing demand in paints & coatings industry

4.3.1.2    Growing inclination towards organic pigments

4.3.2        Restraints

4.3.2.1    Increasingly stringent regulations by regulatory bodies such as, REACH, FDA, EPA

4.3.2.2    High cost of environment friendly and efficient pigments against dyes

4.3.3        Opportunities

4.3.3.1    Increasing integration in supply chain to service customized products for DIY applications

4.3.3.2    Large untapped market in developing & underdeveloped countries e.g., East Asia and Africa

4.3.4        DRO – Impact Analysis

4.4            Patent Analysis

5    Pigments Market, By Type 

5.1            Overview

5.2            Synthetic

5.3            Organic

5.4            Inorganic

6    Pigments Market, By Application 

6.1            Overview

6.2            Paints & Coatings

6.3            Textile

6.4            Printing Inks

6.5            Plastics

6.6            Leather

7    Pigments Market, By Geography 

7.1            Overview

7.2            Asia Pacific

7.3            North America

7.4            Europe

7.5            Rest of the World

(Market segmentation done by country, by type, by applications)

8   Competitive Landscape 

8.1            Competitive Regional Exposure Analysis

8.2            Market Developments

8.2.1        Mergers & Acquisitions (M&A)

8.2.2        Expansions

8.2.3        Product Launches

9   Vendors Profile 

9.1            BASF

9.2            LANXESS

9.3            Clariant

9.4            Huntsman International

9.5            Merck KGaA

(Includes Overview, Product profile, Business units, Geographic revenue, Recent developments, Business focus, Business strategies)

10 Customers Profile 

10.1          PPG Industries

10.2          AkzoNobel

10.3          Ingredion

10.4          PepsiCo

10.5          SAKATA INX Corporation

(Includes Overview, Product profile, SWOT Analysis, Business strategies)

11  Companies to Watch for 

11.1          Clariant

12  Annexure 

12.1          Report Scope

12.2          Market Definition

12.3          Research Methodology

12.3.1      Data Collation & In-house Estimation

12.3.2      Market Triangulation

12.3.3      Forecasting

12.4          Study Declarations

12.5          Report Assumptions

12.6          Stakeholders

12.7      Abbreviations
Research Framework
Infoholic research works on a holistic 360° approach in order to deliver high quality, validated and reliable information in our market reports. The Market estimation and forecasting involves following steps:
Data Collation (Primary & Secondary)
In-house Estimation (Based on proprietary data bases and Models)
Market Triangulation
Forecasting
Market related information is congregated from both primary and secondary sources.
Primary sources
involved participants from all global stakeholders such as Solution providers, service providers, Industry associations, thought leaders etc. across levels such as CXOs, VPs and managers. Plus, our in-house industry experts having decades of industry experience contribute their consulting and advisory services.
Secondary sources
include public sources such as regulatory frameworks, government IT spending, government demographic indicators, industry association statistics, and company publications along with paid sources such as Factiva, OneSource, Bloomberg among others.