Glass Sealant Market By Type (Silicone, Polyurethane, Polysulfide), By End-User (Commercial Construction, Non-Commercial Construction , Transportation) and By Geography – Global Driver, Restraints, Opportunities, Trends, and Forecast to 2023
May, 2018

Domain:

Chemicals, Materials & Food

-

Specialty Chemicals,Adhesive & Sealants
Pages:
128
Tables:
72
Charts:
59
Regions/Countries:
4/9
Companies:
10
Enquiry Hours:
10
Get

Free 10% Customization

in this Report
The glass sealant is a rubber based sealant, that is considered secure and has an excellent resistance towards temperatures and climatic aging. It offers excellent adhesion on glass. Glass sealants are suitable for joining and sealing of glass. Glass sealant has the advanced properties of universal application to control moisture and water. In the recent years, the popularity of this sealant has grown extraordinarily with the global sealants market attracting a significant share.

Research Methodology

The glass sealants market has been analyzed by utilizing the optimum combination of secondary sources and in-house methodology along with an irreplaceable blend of primary insights. The real-time assessment of the market is an integral part of our market sizing and forecasting methodology. Our industry experts and panel of primary participants have helped in compiling relevant aspects with realistic parametric estimations for a comprehensive study. The participation share of different categories of primary participants is given below: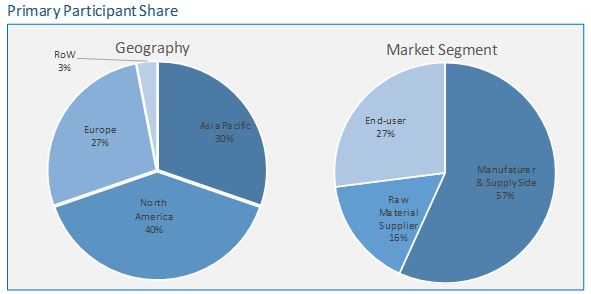 Key Market Insights:

Glass sealants have created a niche market in various applications. Several types of glass sealants are present in the market. The types include a variety of materials such as silicones, polyurethane, and polysulfide resins. In construction, glass sealant is widely used in glazing. Glazing overall, refers to a part of the window, facade panels, rain screens, walls, doors, storefronts, and entrance ways made of glass, that are sealed with this material. Glass sealants for glazing are used to enhance building design, flexibility, visual aesthetics, durability, longevity, UV protection and weather resistance, load-bearing capacity, thermal stress, and low shrinkage.

The extensive use of these sealants in the overall construction and transportation sectors has given a massive boost to the glass sealants market. The rapid growth in economies across the globe and the increasing per capita income among consumers in developing countries are increasing the demand for transportation. This, in turn, is increasing the demand for glass sealants in automobiles. The commercial construction sector is presently leading the market and is expected to remain the same during the forecast years. Emerging economies such as China, India, and Brazil are looking forward to taking advantage of the benefits of glass sealants. Further, the industrial and infrastructural market growth is expected to foster the glass sealants market.

The Asia Pacific is the largest glass sealants market globally, primarily due to the presence of export-oriented manufacturing capacities and intense domestic demand from various end-user industries. The increase in automobile manufacturing and architectural construction is further driving the market growth in the region. The anticipated economic stability in Europe is expected to boost its manufacturing sector, complementing the growth of the glass sealants market. North America is likely to remain the key region with a significant contribution coming from the US. Few of the prominent companies operating in the glass sealants market are BASF SE, 3M, Dow Corning Corporation, General Electric, and Evonik Industries AG.

Material Types:


Silicone


Polyurethane


Polysulfide


Others


 

End-users:


Commercial Construction


Non-Commercial Construction


Transportation


Others


 

Geography:


Asia Pacific


North America


Europe


Rest of the World


 
1   Report Outline 

1.1        Introduction

1.2        Report Scope

1.3        Market Definition

1.4        Research Methodology

1.4.1     Data Collation & In-house Estimation

1.4.2     Market Triangulation

1.4.3     Forecasting

1.5        Study Declarations

1.6        Report Assumptions

1.7        Stakeholders

2     Executive Summary

2.1        Asia Pacific Has Highest Growth Rate in the Glass Sealant Market

2.2        Increasing Consumption Of Glass Sealant In Commercial Construction

3  Market Positioning 

3.1        Total Addressable Market: Sealant Market

3.1.1     Market Overview

3.1.2     Major Trends

3.2        Segmented Addressable Market

3.3        Related Markets

4     Market Outlook 

4.1        Overview

4.2        Value Chain Analysis

4.3        PESTLE Analysis

4.4        Porter 5 (Five) Forces

4.5        Patent Analysis

5     Market Characteristics

5.1        Market Segmentation

5.2        Market Dynamics

5.2.1     Drivers

5.2.1.1 Increasing construction and manufacturing industries

5.2.1.2 Growing purchasing power and higher economic growth in Asia Pacific

5.2.2     Restraints

5.2.2.1 Low penetration in underdeveloped countries

5.2.2.2 Raw material price fluctuations

5.2.3     Opportunities

5.2.3.1 Technological developments in the products and application industries

5.2.3.2 Large untapped market in developing and underdeveloped countries

6     By Material Type: Market Size and Analysis

6.1        Overview

6.2        Silicone Glass Sealant

6.3        Polyurethane Glass Sealant

6.4        Polysulfide Glass sealant

6.5        Vendor Profiles

6.5.1     Henkel AG & Company

6.5.2     3M

6.5.3     Momentive Performance Materials Inc.

6.5.4     Wacker Chemie AG

6.5.5     Sika AG

(Overview, business units, geographic revenues, product profile, recent developments, business focus, SWOT analysis, and business strategy have been covered for all the vendors)

7    By End-user: Market Size and Analysis 

7.1        Overview

7.2        Commercial Construction

7.3        Non-commercial Construction

7.4        Transportation

7.5        Customer Profile

7.5.1     CEMEX

7.5.2     PCL Construction

7.5.3     Toyota Motor Corporation

7.5.4     ACS Group

7.5.5     VINCI

(Overview, business units, geographic revenues, product profile, SWOT analysis, and business strategy have been covered for all the customers)

8     Regions: Market Size and Analysis 

8.1        Overview

8.2        Asia Pacific

8.3        North America

8.4        Europe

8.5        Rest of the World

(Market segmentation for geography, material type, and end-user have been covered for all the regions)

9     Companies to watch for 

9.1        BOSTIK Technologies Corp.

9.1.1     Overview

9.2        H.B. Fuller

9.2.1     Overview

9.2.2    H.B. Fuller's passed the American Architectural Manufacturers Association (AAMA)

10  Competitive Landscape 

10.1     Competitor Comparison Analysis

10.2     Market Landscape

10.2.1  Mergers, Acquisitions, & Joint Ventures

10.2.2  Awards & Recognizing

10.2.3  Exhibition & Product Launch

10.2.4  Expansion

10.2.5  Other Developments

11  Expert's Views 

12 Annexure 

Abbreviations
Research Framework
Infoholic research works on a holistic 360° approach in order to deliver high quality, validated and reliable information in our market reports. The Market estimation and forecasting involves following steps:
Data Collation (Primary & Secondary)
In-house Estimation (Based on proprietary data bases and Models)
Market Triangulation
Forecasting
Market related information is congregated from both primary and secondary sources.
Primary sources
involved participants from all global stakeholders such as Solution providers, service providers, Industry associations, thought leaders etc. across levels such as CXOs, VPs and managers. Plus, our in-house industry experts having decades of industry experience contribute their consulting and advisory services.
Secondary sources
include public sources such as regulatory frameworks, government IT spending, government demographic indicators, industry association statistics, and company publications along with paid sources such as Factiva, OneSource, Bloomberg among others.