Europe Connected Car Market Forecast 2019–2025
To Be Published:
February, 2022
The term "connected car" is generally referred to as technologies, services, and applications that enable the vehicle to connect other devices within the vehicle and/or to connect networks, applications, and services outside the vehicle. The concept of connected cars (CC) is closely linked to the IoT focused on offering solutions across various areas, which include driver assistance, vehicle management, mobility management, safety, in-vehicle entertainment, and many others. A typical functional block of a connected car includes an operating system layer, virtualization layer, connectivity, V2X, firmware-over-the-air (FOTA) security, and application framework.
Market Dynamics – Connected Car Market in Europe
The transportation sector in Europe is moving toward data-based mobility, where automotive OEMs are heavily investing in digital technologies and increasingly focusing on partnering with solution providers across various areas such as connectivity, security, software, and others. Increasing awareness toward road safety, coupled with a favorable regulatory environment that supports the commercialization of connected car applications, is the key factor contributing to the growth of the connected car market in Europe.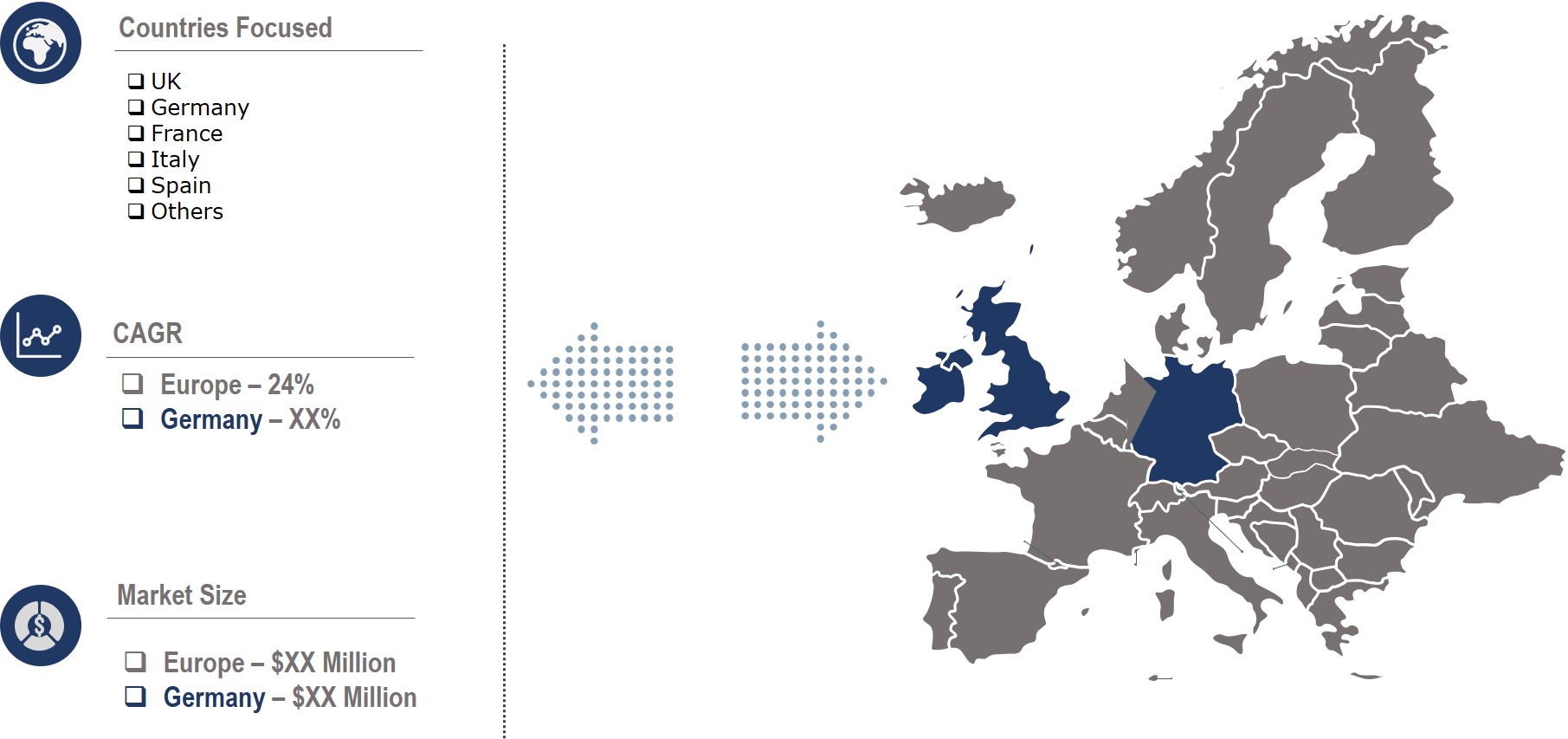 Increasing interest in real-time data-enabled solutions to optimize the transportation system operations along with rising government focus on improving road safety (driver, passenger, and pedestrian safety) through connectivity is propelling the growth of the connected car market in Europe. Additionally, continuous advancement in technologies such as 5G, artificial intelligence (AI), and blockchain is anticipated to fuel the growth of the connected car market in Europe. However, safety & security concerns and lack of standardized frameworks are identified as restraints likely to deter the progression of the connected car market in Europe during the forecast period.
Market Segmentation – Connected Car Market in Europe
The connected car market in Europe is segmented based on technology, connectivity, application, and country. Based on technology, the connected car market in Europe is segmented into embedded, integrated, and tethered. By application, the connected car market in Europe is segmented into location-based, infotainment, safety & security, convenience, driver assistance, and others.
Country-level Outlook – Connected Car Market in Europe
In terms of country-wise analysis, the connected car market in Europe is segmented into Germany, UK, France, Spain, Italy, and others. Germany and UK contributed to a significant market share in 2018 and are expected to maintain market dominance throughout the forecast period. This is mainly due to rising concerns on road safety and increasing investment in developing a comprehensive ecosystem for intelligent transportation.
Benefits and Vendors – Connected Car Market in Europe
The study on the connected car market in Europe contains an in-depth analysis of vendors, which includes financial health, business units, key business priorities, SWOT, strategies, and views; and competitive landscape. A few of the key players highlighted in this study include Robert Bosch GmbH, Continental AG, NXP Semiconductors, Ericsson, Aptiv, Airbiquity Inc., CloudMade, Intellias Ltd., Telefonica, S.A., and TomTom N.V.
The study offers a comprehensive analysis of the "Connected Car Market in Europe". Bringing out the complete key insights of the industry, the report aims to provide an insight into the latest trends, current market scenario, and technologies related to the market. In addition, it helps the venture capitalists to understand the revenue opportunities across different segments to make better decisions.
Industry Overview

Industry Trends
Future Possibilities

Report Outline

Report Scope
Report Summary
Research Methodology
Report Assumptions

Market Snapshot

TAM & SAM
Europe Connected Cars Market Revenue
Europe Connected Cars Shipment
Connected Cars Impact on Non-automotive Industries
Related Markets

Smart Cities
Smart Homes
Wearable Consumer IoT

Market Characteristics

Evolution of Market
Value Chain
Market Segmentation
Market Dynamics

Market Drivers
Market Restrains
Market Opportunities
DRO – Impact Analysis

Porter 5 (Five) Forces

Trends and Roadmap

Market Trends & Impact
Technology Roadmap

Connectivity: Market Size & Analysis

Overview
Embedded

Overview
Market Size & Analysis

Integrated

Overview
Market Size & Analysis

Tethered

Overview
7.1 Market Size & Analysis
Applications: Market Size & Analysis

Overview
Location-based Applications

Overview

Point of Interest and Navigation
Traffic and Alternative Routing
Geo-fencing Applications

Market Size & Analysis

Infotainment & HMI

Overview

Music and Video Streaming
Social Networking
News and Alerts

Market Size & Analysis

Safety & Security

Overview

Emergency Services
Anti-theft System
Monitoring Vehicle

Market Size & Analysis

Convenience

Overview

Remote Controlling
Parking
Vehicle Diagnostics

Market Size & Analysis

Driver Assistance

Overview
Market Size & Analysis

Others

Overview
Market Size & Analysis

Country: Market Size & Analysis

Overview
Germany
UK    
France
Spain
Italy  
Others

Competitive Landscape

Competitor Comparison Analysis

Automotive Companies by Connectivity
Vendors By Operating Application Type
Automotive Companies by Applications

Market Landscape

Mergers & Acquisitions (M&A)
Joint Ventures & Collaborations

Vendor Profile

General Motors
Ford Motor Company
Delphi Automotive PLC
NXP Semiconductors
Daimler AG
Continental AG
Garmin International

Global Generalists

Apple Inc.
Google Inc.
International Business Machines Corporation
AT&T Inc.
Intel Coproration

Companies to Watch For

Zubie
Intelligent Mechatronic Systems – IMS
Jasper Technologies, Inc.
Mojio
Autonet Mobile
Annexure
Abbreviations
Research Framework
Infoholic Research works on a holistic 360° approach in order to deliver high quality, validated and reliable information in our market reports. The Market estimation and forecasting involves following steps:
Data Collation (Primary & Secondary)
In-house Estimation (Based on proprietary data bases and Models)
Market Triangulation
Forecasting
Market related information is congregated from both primary and secondary sources.
Primary sources
Involved participants from all global stakeholders such as Solution providers, service providers, Industry associations, thought leaders etc. across levels such as CXOs, VPs and managers. Plus, our in-house industry experts having decades of industry experience contribute their consulting and advisory services.
Secondary sources
Include public sources such as regulatory frameworks, government IT spending, government demographic indicators, industry association statistics, and company publications along with paid sources such as Factiva, OneSource, Bloomberg among others.