Advance Analytics Market Benchmarking the Enterprise Growth - End-user Landscape & Vendor Analysis
Pages:
57
Tables:
3
Charts:
10
Regions/Countries:
4/0
Companies:
10
Enquiry Hours:
10
Get

Free 10% Customization

in this Report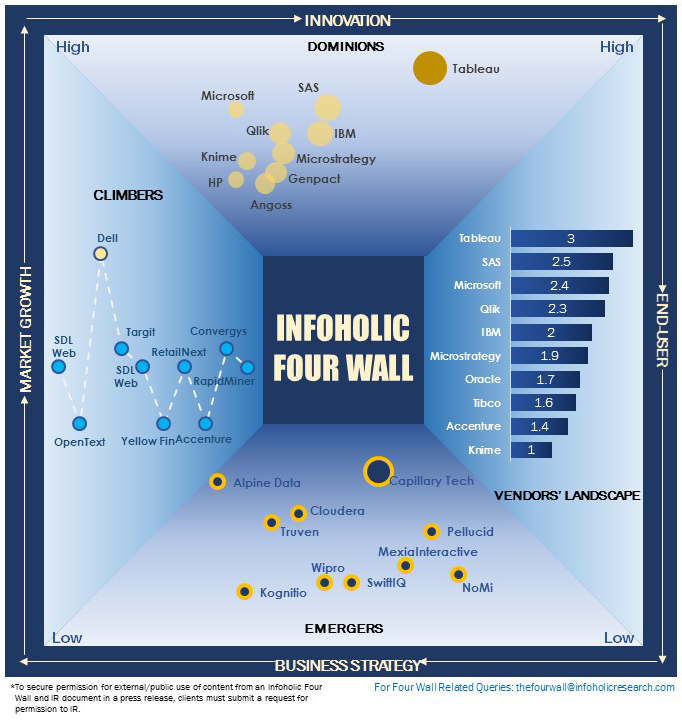 1. PROJECT SCOPE

2. INTRODUCTION

3. GLOBAL ADVANCED ANALYTICS- BUSINESS VALUE

4. GLOBAL ADVANCED ANALYTICS MARKET- BROAD CATEGORIZATION
4.1 Types of Analytics
4.2 Market Breakdown

5.GLOBAL ADVANCED ANALYTICS MARKET- DEMAND SIDE BREAKDOWN
5.1 By Organization Size
5.1.1 Large Enterprise (<=1000 People)
5.1.2 SMB&E  (1-999 People)
5.2 By Region
5.2.1 American Continents
5.2.2 Europe
5.2.3 APECJ
5.2.4 MEA
5.3 By Industry
5.3.1 BFSI
5.3.2 Healthcare & Life Science
5.3.3 IT & Telecom
5.3.4 Manufacturing & Automotive
5.3.5 Retail

6. GLOBAL ADVANCED ANALYTICS MARKET- ADOPTION RATE
6.1 By Regions
6.2 By Advanced Analytics Models
6.3 Reason for Adoption-User View

7.MARKET DRIVERS FOR ADVANCED ANALYTICS
7.1 Top Capabilities and Features
7.2 Barriers to Adoption- User View
7.3 Parameters for Choosing Advanced Analytics- User View

8.WHY ADVANCED ANALYTICS- USER VIEW

9.SPENDING BY ORGANIZATIONS
9.1 IT Spending
9.2 Advanced Analytics Spending

10.CHURN ANALYSIS

11.ADVANCED ANALYTICS- IMPACT SCALE

12.PORTER's FIVE FORCE

13.PRICING OF THE PRODUCTS

14.USER VIEWS ON VENDORS- ON TOP PARAMETERS

15.INFOHOLIC's FOUR WALL

16.VENDOR ANALYSIS
16.1 By Top Vendors
16.2 By Verticals

17.OTHER PROMINENT PLAYERS

18.ADVANCED ANALYTICS USE- BY EXAMPLE

19.TECHNOLOGICAL GAME CHANGERS
19.1 Analyst & Stakeholder's View
19.2 Key Trends
19.3 Advanced Analytics Platforms-2016

20.STAKEHOLDER's QUOTES
20.1 By End-Users
20.2 By Vendor's

21.INFOLOHIC'S OBSERVATION

22.ADVANCED ANALYTICS - AT A GLANCE

23.PROJECT METHODOLOGY

24.ABOUT INFOHOLIC RESEARCH
Research Framework
Infoholic Research works on a holistic 360° approach in order to deliver high quality, validated and reliable information in our market reports. The Market estimation and forecasting involves following steps:
Data Collation (Primary & Secondary)
In-house Estimation (Based on proprietary data bases and Models)
Market Triangulation
Forecasting
Market related information is congregated from both primary and secondary sources.
Primary sources
Involved participants from all global stakeholders such as Solution providers, service providers, Industry associations, thought leaders etc. across levels such as CXOs, VPs and managers. Plus, our in-house industry experts having decades of industry experience contribute their consulting and advisory services.
Secondary sources
Include public sources such as regulatory frameworks, government IT spending, government demographic indicators, industry association statistics, and company publications along with paid sources such as Factiva, OneSource, Bloomberg among others.