Worldwide Sports Analytics Market to grow at a CAGR of 40.1% during the forecast period 2016–2022 to aggregate $3.97 billion by 2022
" "
Sports technology and analytics have evolved rapidly in the past 10 years. It has assisted teams in winning games in the dying minutes and taking split second decisions in major sports such as motor sports. The technologies will get integrated and analytics is likely to evolve further in the next 5–10 years.

Infoholic Research LLP, a global market research and consulting organization, has published a study titled "Worldwide Sports Analytics Market – Drivers, Opportunities, Trends and Forecasts: 2016–2022" (December 2016).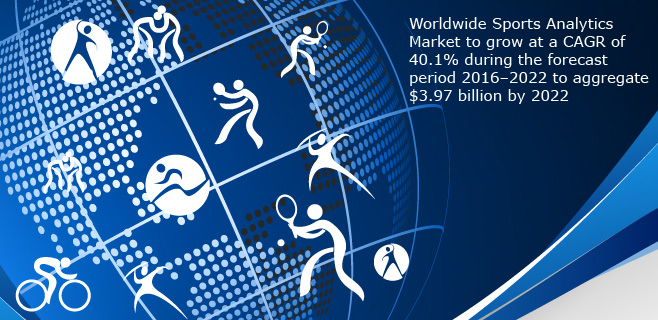 According to Infoholic Research, data-based decision making is the major reason for the growth of sports analytics. Coaches want to get insights into real time data to monitor the performance and fitness of players and create game strategies. In terms of business, owners and managers want to utilize data extracted from customer touch points and social media to understand the fans, engage them, and turn them into loyal customers. Overall, the sports clubs want to gain a competitive edge over the other clubs. The sports analytics market is expected to grow at a CAGR of 40.1% during the period 2016–2022 to touch an aggregate of $3.97 billion by 2022.

Request a sample of the report 

@ https://www.infoholicresearch.com/request-a-sample-report/?repid=4485

The sports analytics market size is analyzed based on three segments: sports type, applications and regions. The team sports are the major users of analytics when compared to the individual sports. Due to the global popularity of football, there are several major clubs in football and are also the dominant users of sports technologies and analytics. Although the highest adoption rate is by the baseball and basketball clubs in North America. Clubs in American football are likely to raise their investment in analytics team and sports technologies. Cricket and individual sports are the emerging markets for sports analytics.

Fan insight and engagement is the major application preferred by sports leagues and clubs. Various clubs and leagues are considering the use of analytics in the business aspect as well. The owners and business managers want to get a 360-degree view of the fans and engage them as per the extracted information. The data is also utilized in operations in creating marketing plans and ticket sales. Team management is the next major application, which is being used since the beginning of analytics in sports. Team and player performance remains the major preference of sports clubs.

North America is the biggest market for sports analytics. The sports analytics trends has seen a major success and has been widely adopted by the big clubs and in leagues. Europe is the second largest market for sports analytics. The region is dominating with popular and rich football leagues and clubs. The investments are being made to address the rising competition and the global fan base. The opportunity regions are Asia Pacific and the Middle East. The rising number of leagues and investments are likely to drive the market. India and China are expected to be the major markets in Asia Pacific in the next 5 years.

Buy a complete report on Worldwide Sport Analytics Market – Drivers, Opportunities, Trends, and Forecasts: 2016–2022

@ https://www.infoholicresearch.com/report/worldwide-sport-analytics-market-2016-2022/

"The adoption of analytics in the sports industry is expected to increase due to the rapid growth in data generation. The cloud technology, big data, Wi-Fi analytics, and wearable devices are set to be the key elements for the sports analytics market growth." – Jaydeep Bhattacharjee – Group Head at Infoholic Research

"Sports analytics has been widely accepted by major leagues and clubs around the world. Various sensors, video and wearable technologies have already impacted the growth of analytics in sports. Sports analytics is expanding to various sports leagues and tournaments in other regions, and will steadily continue to grow with the rise in investments by private and public entities. The sports technologies are likely to evolve further in the next 5–10 years. The strength of analytics will be determined by its predictive capabilities, and IoT is further going to play a role in the integration of devices." – Bhavya H, Senior Research Analyst at Infoholic Research

The Sports analytics market report aims to highlight key insights from providers and end-users. The report provides an in-depth analysis and forecast about the industry covering the following key features:



This report not only highlights users' conundrum (challenges and barriers to adopting sports analytics) but also brings in their perspective on the market


The market has been analyzed by considering the key regions – North America, Europe, Asia Pacific, Latin America, and Midd Sports analytics market le East & Africa


It provides Sports analytics market overview industry outlooks including current and future market trends and drivers, restraints and emerging technologies


The report analyzes the market according to the sports type, applications and regions


The report analyzes the top 14 Sports analytics companies in terms of market reach, business strategy, and business focus


Technology adoption and future investments in Sports analytics market by clubs in major leagues in North America


Competitive landscape


Stakeholders' insights and key trends (current and future) of the market


Contact: