Worldwide Hybrid Cloud Computing Market to grow at a CAGR of 34.3% during the period 2016–2022 to aggregate $241.13 billion by 2022
" "
Rising adoption of hybrid cloud computing across SMEs and large industries improves the strength of the market. The manufacturing industry holds more than 30% of the verticals market share followed by telecommunication & IT which holds 11% of the market share.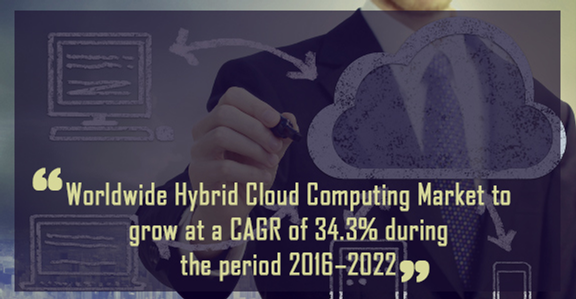 Infoholic Research LLP, a global market research and consulting organization, has published a study titled "Worldwide Hybrid Cloud Computing Market: Drivers, Opportunities, Trends, and Forecasts, 2016–2022" (June 2016).

According to Infoholic Research, currently hybrid cloud is at an early adoption stage and organizations across all verticals and sizes are implementing a hybrid cloud. Most of the enterprises are benefiting from the hybrid adoption as it helps to save cost with its pay as you use model. A rapid increase in the private cloud adoption is driving the hybrid cloud market with nearly 82% of the enterprises planning to have a hybrid cloud strategy by 2017. The market is expected to grow at a CAGR of 34.3% during the period 2016–2022 to touch an aggregate of $241.13 billion by 2022. Hybrid cloud provides a single solution to organizations involved in multiple verticals; more than 50% of the large enterprises are planning to implement hybrid cloud by 2018. In addition to that, the hybrid cloud provides a significant opportunity for cost savings by shutting down unused workloads and by helping to select lower-cost clouds based on the requirement. The hybrid cloud computing market is analyzed by four segments: solutions, service model, verticals and regions.

Request a sample of this report

@ https://www.infoholicresearch.com/request-a-sample-report/?repid=3110

"The demand for hybrid cloud solutions is increasing. Enterprises are expecting a hybrid solution setup which can support multiple applications, networking and management across internal and off-premise environments. Hybrid cloud solutions enable business agility that enterprises need and at the same time help in reducing IT operating costs by up to 20%." – Tariq Ahmed. Shaik, Research Manager at Infoholic Research

The solutions segment consists of application architecture, network integration and management systems. The application architecture model helps to enhance business value and at the same time reduces the risks involved in the transitional process. It further helps to reduce operational cost in the long run by automating different deployment models. Hybrid applications provide greater granularity and control on how, where and when workloads should be deployed as applications are designed considering support required across geographical locations, i.e. in case enterprises have their physical data centre in the US and the development team located in the UK.

There are multiple reasons which are compelling the enterprises to shift towards the Hybrid Clouds.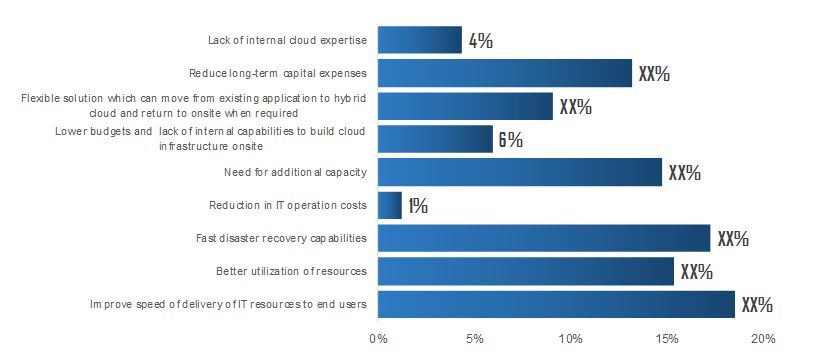 Image: Reason for enterprises to shift workload to Hybrid Clouds. Note: Few readings are hidden; you can find the complete report at Infoholic Research.

As per the chart, 4% of enterprises mentioned that 'lack of internal cloud expertise' have driven them to move the work load to -Hybrid Cloud Technology. 'Lower budgets and lack of internal capabilities to build cloud infrastructure onsite' is the reason given by 6% of enterprises, while 1% said 'Reduce IT operation cost' have propelled then to put the heavy work load to Hybrid Cloud Technology.

With regards to vertical analysis, manufacturing and telecommunication & IT industries are expected to generate maximum market share with the contribution of around $8.97 billion revenue for hybrid cloud computing market growth in 2016. The manufacturing industry has been one of the early adopters of hybrid cloud technologies compared to other industries as hybrid cloud-based technologies are most appropriate for manufacturing industries. It helps to streamline operations, reduce operating costs and increase productivity which in turn controls increasing overhead, meets security norms and easy availability of business-critical applications. Further telecommunication & IT enterprises gain advantage from the hybrid cloud as it delivers real-time automation which increases productivity and manages costs, which creates a remote work environment equipped with telecommunication links and allows a virtual office combination of off-site live communication.

Organizations are also adopting hybrid cloud management tools and tools that supports process automation, innovation and help in reducing complexity while maintaining and automating governance and compliance policies.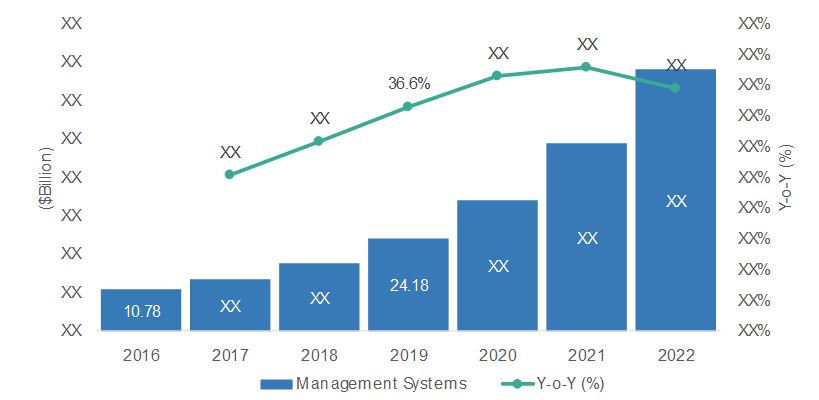 Image: Hybrid Cloud Management system market revenue growth chart. Note: Few readings are hidden; you can find the complete report at Infoholic Research.

The graph on hybrid cloud management systems market revenue portrays a steep rise from $10.78 billion in 2016 to $24.18 in 2019. By 2022 the number grows four folds according to expert inputs and research done by Infoholic Research.

North America is set to be the leading region for hybrid cloud computing market followed by Western Europe and Asia Pacific. Hybrid cloud has opened up new possibilities for enterprises of all sizes, which are focused on hosting data or services in the cloud. Hybrid cloud adoption is set to triple its number in the next three years in North America region. Asia Pacific will see a surge in hybrid cloud adoption in the next two years with nearly 70% of companies planning to adopt both on-premise and off-premise clouds in the Asia Pacific region.

"The demand for hybrid cloud is continuously growing as it provides maximum benefits at low costs and it can be integrated with the present cloud environments used by businesses. By 2020, nearly 50% of the large and medium enterprises will implement hybrid cloud model as an alternative to private clouds as it offers flexible features that help an enterprise to carry out quick disaster recovery." – Pavan Mudholkar, Senior Research Analyst at Infoholic Research

Purchase a copy of the report on Hybrid Cloud Computing Market 

@ https://www.infoholicresearch.com/report/worldwide-hybrid-cloud-computing-market-drivers-opportunities-trends-and-forecasts-2016-2022/

The report aims to highlight key insights from providers and end-users. The report provides an in-depth analysis and forecast about the industry covering the following key features:



An in-depth analysis of upcoming regions and verticals for hybrid cloud computing adoption in the next 6–7 years


Usage and adoption rate of different service models in each industry verticals


Provides an in-depth analysis of the key business opportunities in each vertical and regions


Provides industry outlooks such as current and future market trends and drivers, restraints and emerging technologies


Analysis of the market by six distinct geographical regions – North America, Western Europe, Central Eastern Europe, Asia Pacific, Latin America and the Middle East & Africa


 Scope of this report:
The report provides an in-depth analysis of the hybrid cloud computing adoption and usage pattern.
Markets are analyzed by


Solutions – Application Architecture, Network Integration and Management Systems


Service Model – Infrastructure as a Service (IaaS), Platform as a Service (PaaS) and Software as a Service (SaaS)


Verticals – Banking & Financial Services, Consumer Goods & Retail, Healthcare, Manufacturing, Media & Entertainment, Energy & Utilities, Government, Telecommunication & IT, Transportation & Logistics and Others


Regions – North America, Western Europe, Asia Pacific, Central Eastern Europe, Latin America, and the Middle East & Africa


The report covers drivers, restraints and opportunities (DRO) affecting the market growth during the forecast period (2016–2022)


It also contains analysis of vendor profiles, which includes financial health, business units, key business priorities, SWOT, strategy and views


The report also covers competitive landscape, which includes mergers and acquisitions, joint ventures and collaborations, and competitor comparison analysis


In vendor profile section, for the companies that are privately held, financial information and revenue of segments will be limited


About Infoholic Research
Infoholic Research is a global market research and consulting organization providing strategic and high-level market intelligence in emerging and niche technologies. Founded in 2014, we are headquartered in India with an office in the US and with consultants working across the globe. Our market analysis powered by rigorous methodology and quality metrics provides information and forecast across all the emerging markets, technologies and business models. We aim at delivering high-quality results to our clients providing them with in-depth industry insights to identify new business opportunities and nurture their business strategies. For more information, please visit
www.infoholicresearch.com
Contact: