The 3D printing market in Aerospace and Consumer Electronics Industry is expected to grow at a CAGR of 28.2% during the period 2016–2022 to reach $11 Billion.
" "
Less raw material wastage, increased government investments, efforts to develop light-weight aircraft, increase in tech-savvy population and increased demand for wearables and smart devices in consumer electronics segment are growth propellants in the Worldwide 3D Printing Market in Aerospace and Consumer Electronics Verticals

Infoholic Research LLP, a global market research and consulting organization, has published a study titled "Worldwide 3D Printing Market in Aerospace and Consumer Electronics: Drivers, Opportunities, Trends, and Forecasts, 2016–2022".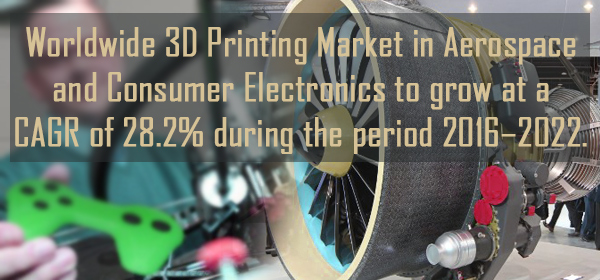 3D Printing, an additive manufacturing process involves methods used to create a three-dimensional object by putting together layers of material under computer control. It is a rapidly growing market and considerably reduces raw material wastage compared to traditional printing methods. 3D Printing has become pervasive across a wide range of application industries such as healthcare, consumer electronics, automobiles and aerospace.

"3D printing involves on-demand manufacturing, it speeds up processes and reduces cost considerably. Industry leaders are keen to implement 3D printing technology in the aerospace and consumer electronics domain to improve manufacturing processes and reduce inventory. Moreover, investment support from the government and smart initiatives from key industry players are driving this market." – Jaydeep Bhattacharjee, Group Head at Infoholic Research.

The 3D Printing Market is segmented by Technologies and Materials. The Technologies segment is sub segmented by - Fused Deposition Modeling (FDM), Selective Laser Sintering (SLS), Stereolithography (SLA) and Others. The Materials segment is sub segmented by – Plastic, Ceramics, Rubber, Metal, Wax and Others.

Request a sample of this report

@  https://www.infoholicresearch.com/request-a-sample-report/?repid=2723

The key geographies for 3D Printing are North America, Europe, Asia-Pacific and Latin America, Africa and Middle East (LAAM). The 3D Printing Market in Aerospace and consumer electronics verticals is sub segmented and analysed by each of region. North America is one of the key market for 3D Printing in Consumer Electronics whereas Europe leads the Aerospace 3D Printing Market. The growth in North America and Europe has been two-fold. Asia-Pacific is also emerging as a high growth market.

It is expected that Asia Pacific and Latin America will be the biggest 3D printing market in aerospace and consumer electronics domain, in the coming years. The increase in the number of air travellers, increasing income and growing demand for sleek and light-weight electronic products will support the growth of the 3D printing market in these regions. It is expected that major growth will be witnessed in China, Singapore and Brazil due to increased R&D activities in these countries.

Key players in the market are 3D Systems, Stratasys, Boeing, Aerojet Rocket Dyne, GE Aviation, Optomec, XYZ Printing, HP Development Company, Rolls-Royce, Safran Turbomeca and Airbus.







Report Highlights



The report covers drivers, restraints and opportunities (DRO) affecting the market growth over the forecast years (2016–2022)


The report provides information related to latest industry and market trends, key stakeholders, industry pest analysis and competitive landscape


The report covers competitive landscape, which includes mergers & acquisitions, joint ventures & collaborations and competitor comparison analysis


The research report provides a comprehensive review of 3D printing technologies and 3D printing materials


The report also covers 3D printing market in aerospace and consumer electronics market in terms of trends, regions and vendor assessments based on technology, R&D spending, and product offerings


Aerospace 3D printing market revenue is one thing to look for. From 2015 that showed $613.7 million revenue in aerospace segment, is likely to soar a mammoth $1,446.7 million by 2019. So what market revenue 2022 year has for this segment, is everyone is looking for!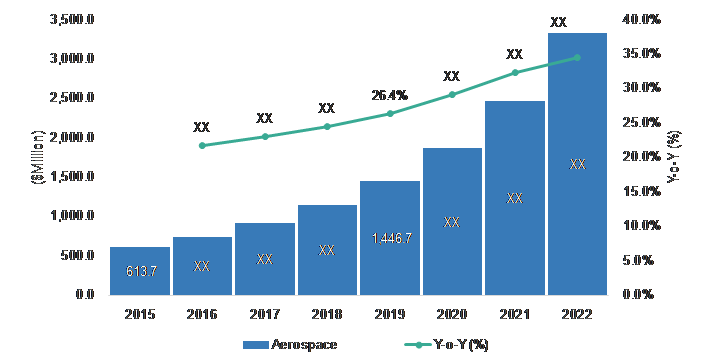 Image: Market Revenue Share of Aerospace 3D Printing from 2015 to 2022. Note few readings are hidden. You can find the complete report in
Infoholic Research
.Purchase a copy of the report on 3D Printing trends and market focus@ https://www.infoholicresearch.com/report/worldwide-3d-printing-market-in-aerospace-and-consumer-electronics-drivers-opportunities-trends-and-forecasts-2016-2022/Contact: