Permanent Rare Earth Magnets: China Increasing Global Dominance
" "
With its recently published study "Permanent Rare Earth Magnets Market: Drivers, Opportunities, Trends, & Forecast: 2015–2022", Infoholic forecasts that the global permanent rare earth magnets market will continue to witness high growth owing to increased global demand for reducing the power dependencies with more energy efficient products and increasing installations of wind power capacities across geographies.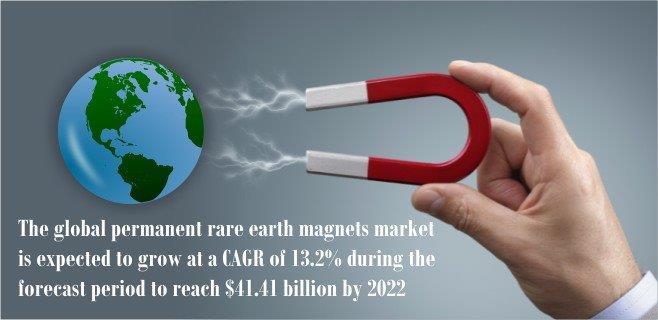 The permanent rare earth magnets installed products are not only helping us in reducing the power consumption across industries, but also being utilized in the renewable power capacity installations of wind turbines. Government initiatives across geographies have resulted in huge investments in application areas providing high demand potential for rare earth magnets. This pattern is expected to continue during the forecast period 2016–2022 to increase permanent rare earth magnets market, growing at a CAGR of 13.2%.
Request a sample of this report
@ https://www.infoholicresearch.com/request-a-sample-report/?repid=4127
Industrial motors segment is contributing the most towards the permanent rare earth magnets market and is the largest segment in demand. This trend is expected to continue during the forecast period as well. However, the market demand from wind turbine segment is expected to grow with the highest growth rate during the forecast period 2016–2022.
Presently, the high cost of rare earth elements has limited their magnets markets' potential applications when compared to other permanent magnets such as ferrite and alnico magnets. However, the increasing investment in research and development is expected to reduce the dependencies on heavier rare earth metals, resulting in the price decline and higher market demand potential across application sectors.
"The permanent rare earth magnets are the strongest available magnets in the market enabling high magnetic strength for components even with smaller volume and weight. This has been helping the market growth for permanent rare earth magnets across applications. However, the raw materials availability is limited and more than 90% of mining activities are in China. Further, the availability of cheap labor and illegal mining has been causing manufacturing companies to shift to China to reap benefits of low production cost. In the longer run, when other countries would start mining activities with probably higher market prices of metals, the refining facilities and downstream capacities would still remain in China because of low-cost benefits." – Ankur Kalra, Research Manager, Chemicals and Materials.
 Purchase a copy of  Permanent Rare Earth Magnets Market – Drivers, Opportunities, Trends & Forecasts: 2015–2022
@ https://www.infoholicresearch.com/report/global-permanent-rare-earth-magnet-market-2015-2022/
Key insights of the report


Global permanent rare earth magnets market has been analyzed based on types




Neodymium Magnets


Samarium Magnets







Global permanent rare earth magnets market has been analyzed based on application areas




Industrial


Consumer Electronics


Home Appliances


Automotive


Wind Turbines


Others (such as Medical Equipment, Aerospace)







Contact: