Visibility in supply chain and demand for improved operational efficiency will drive the IoT in Discrete Manufacturing market
" "
In the present dynamic discrete manufacturing market, manufacturers are aggressive in their growth strategies, are focused on reducing operational costs, and committed to achieving high-efficiency levels in production and supply chain. These factors, in addition to the advancements in wireless solutions and analytics, are likely to drive the market for IoT in discrete manufacturing.

Infoholic Research LLP, a global market research and consulting company, has published a study titled "Worldwide IoT in Discrete Manufacturing Market: Drivers, Opportunities, Trends, and Forecasts: 2016–2022".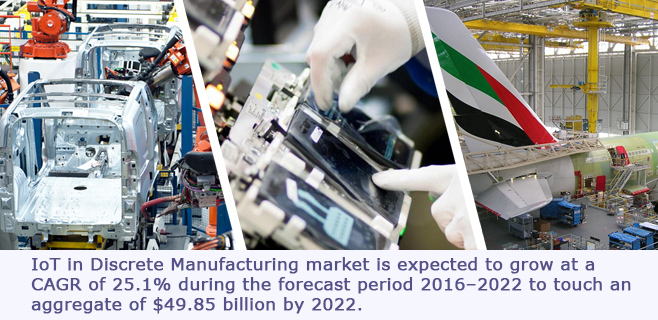 According to Infoholic Research, the discrete manufacturing market is highly competitive and dynamic. Few of the sectors are on the verge of maturity and are looking for various ways to differentiate themselves in the market. The manufacturers have become aggressive in expanding into new markets with differentiated products. In addition, they are committed to high operational efficiencies and reducing operational costs, which have paved the way for the adoption of IoT. The discrete manufacturing industry is already known for automation, sensors, and use of advanced technologies, and are prepared to utilize the benefits of IoT in achieving a competitive advantage over other manufacturing organizations. The market is expected to grow at a CAGR of 25.1% during the forecast period 2016–2022 to touch an aggregate of $49.85 billion by 2022.

Request sample of the report

@ https://www.infoholicresearch.com/request-a-sample-report/?repid=5262

The major share of the revenue comes from data management due to rise in enterprise mobility, complexity in supply chain, and increase in data volume. It is followed by monitoring & tracking which accounts for more than 20% in 2016. The security market is likely to grow the fastest due to the rising number of security threats across IoT devices and the criticality of the same in manufacturing processes.

In term of regions, at present, North America holds the largest market share due to a significant presence of discrete manufacturers, a well-developed IoT ecosystem, and good support from the central governments. Europe would be investing in IoT to invigorate the manufacturing industry, and is likely to register a stable growth rate. Asia Pacific is an emerging region in manufacturing and is likely to register the highest growth rate. The region has a significant base of manufacturing industries and factories and would be investing to safeguard the manufacturing interests.

"IoT has already picked up in discrete manufacturing. Although, still a significant number of manufacturers are skeptical of the ROI from IoT, and at present are studying the possible impact of the technology in their manufacturing and supply chain processes. In the next 3–5 years, we would see the implementation of IoT strategies by several organizations, who at present are in the planning phase. The market is likely to grow in the next 5 years due to the success of various other manufacturers who have already implemented or in the phase of implementing IoT throughout their manufacturing processes." – Kumar Avnish, Research Analyst at Infoholic Research
Buy complete report on Worldwide IoT in Discrete Manufacturing Market – Drivers, Opportunities, Trends, and Forecasts: 2016–2022
@ 
https://www.infoholicresearch.com/report/iot-in-discrete-manufacturing-market-trends-and-forecast-2016-2022/
The report aims to highlight key insights from providers and end-users. The report provides an in-depth analysis and forecast about the industry covering the following key features:


This report not only highlights users' conundrum (challenges and barriers to adopting IoT in discrete manufacturing) but also brings in their perspective on the IoT market in discrete manufacturing


The market has been analyzed by considering the key regions – North America, Europe, Asia Pacific, Latin America, and Middle East & Africa


The report analyzes the market as per applications, software, services, and verticals


Stakeholders' insights and key trends (current and future) of the market


Evolution of IoT in manufacturing, and the entire IoT and discrete manufacturing ecosystem


Contact: