Infoholic Research has extended its gamut of Services to cater to Healthcare Industry (End to End Market Research & Consulting Services)
" "


Infoholic Research introduces Healthcare domain to offer syndicated reports and custom based consulting services to the Healthcare industry


Infoholic Research will provide in-depth analysis on various market segments in the Healthcare industry, namely: Biotechnology, Medical Devices, Pharmaceuticals, Diagnostics


 Bangalore, India – December 13, 2016 – After successful inclusion of market research and consulting services of ICT, Chemicals & Materials, and Electronics & Semi-Conductors domains, Infoholic Research now broadens its service to cater to the Healthcare industry.
The Healthcare industry is one of the fastest-growing industries in the globe and consumes more than 10% GDP for most of the developed countries. With annual health expenditure of $3.35 trillion in the US in 2016, the industry seems to have taken a huge interest amongst stakeholders and research industry. The advancements in technology, innovation, and data management is facilitating new diagnostic and treatment options. However, these same advancements are increasing the overall price of the products/services. Adoption of Information Technology in Healthcare, such as telemedicine, mHealth, electronic medical records are creating new areas of research to focus on.
"Increasing competition is forcing the healthcare providers as well as hospitals to merge with each other to form large healthcare systems to reach out to the broader spectrum. Our in-depth analysis in Healthcare would provide, however not limited to detailed trends, market behaviour, procurement analysis, as well as pipeline studies to the relevant stakeholders. We focus to help vendors to understand the impact of current technologies, drugs, and healthcare products on the holistic environment for future requirements and investments." – K. R. Sreenivasan, CEO Infoholic Research
Infoholic's syndicated Healthcare services aim to deliver high value market trends and forecast based on company's in-house expertise of highly qualified analysts and participation from key players in Healthcare domain. Our mission is to address all the latest and future trends of the Healthcare industry through our in-depth and real time analysis of various segments such as Biotechnology, Medical Devices, Pharmaceuticals, as well as Diagnostics. The reports will also focus on quality analysis of drugs/devices/technology/services, with appropriate annual sales details. We aim to focus on quantitative and qualitative analysis of the market, including various market impact parameters via Infoholic's proprietary research methodologies. With the focus on global market, Healthcare syndicated reports also provides region specific market analysis.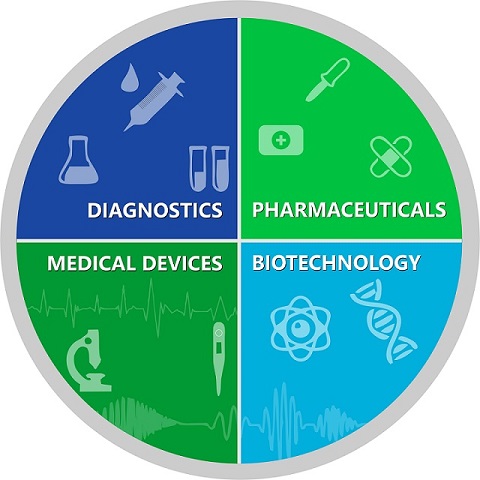 "The Healthcare industry is currently experiencing dynamic changes, as the providers, stakeholders, governments are striving to deliver effective and efficient care. The industry is experiencing significant spending patterns on care provision and technology innovations with the increase in number of aging population, chronic and communicable diseases, government spending, medical advancements, and mergers and acquisitions. The Healthcare industry is gradually shifting from conventional fragmented outlook to consolidation, collaborative, and connective process." – Victor Mukherjee, AM (Healthcare Domain), Infoholic Research
Infoholic Research also delivers customized research services to the customers with its existing research capabilities as well as proficient team of consultants. Our tailor-made research services comprise of market insight, country specific reports, competitive analysis, supplier research, consumer research, marketing and growth strategies, pipeline products, and many more.
Contact: