The Automotive Segment is Propelling the Growth of the Global CMOS Image Sensor Market
" The global CMOS image sensor market is expected to witness a CAGR of above 8.4% during the forecast period 2019–2025 "
Bangalore, India, September 06, 2019: With its recently published study "Global CMOS Image Sensor Market – Drivers, Restraints, Opportunities, Trends, and Forecast up to 2025", Infoholic Research forecasts that the global market for CMOS image sensor is entering a new growth phase owing to increasing demand for CMOS image sensor for applications such as automotive, medical imaging, automated quality control, smart home, medical imaging, virtual reality, and others.
Typically, CCD and CMOS are two main types of image sensors available in the market. CCD is the matured technology which has been used for more than 30 years. Initially, CCD was the preferred image sensing technology which offered better image quality than CIS based devices. Significant investment in R&D and advancement in design techniques and the semiconductor manufacturing process in the past decade has led to significant improvements in CMOS image sensor performance and image quality. Since then, use cases of CMOS based image sensing technology has drastically expanded across various imaging applications. Today, CMOS image sensor has become an electronic eye of many applications that requires translation of light into digital information.
Access Full Report Summary @ https://www.infoholicresearch.com/report/CMOS-image-sensor-market/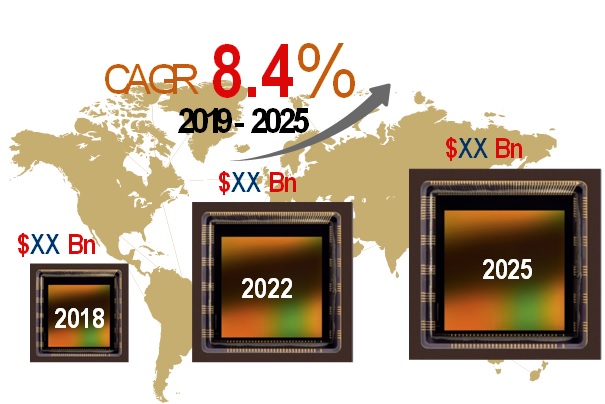 Mobile & computing application segment was the dominant segment in 2018 and is expected to remain dominant throughout the forecast period. This is mainly due to increasing user preference for smartphones with high-resolution and multi-camera modules. Moreover, smartphone OEMs are increasingly focusing on differentiated products to attract consumers to upgrade their existing handsets by launching smartphones with 3D sensing capabilities which is anticipated to support the growth of CMOS image sensor market during the forecast period.
Get a sample copy of the report @ https://www.infoholicresearch.com/request-a-sample-report/?repid=14292
Additionally, CMOS image sensing technology for automotive application is accelerating the growth of the market as the automotive industry is moving towards the connected and autonomous mobility era. Furthermore, digital transformations in driver assistance solutions is increasing the market potential of the global CMOS image sensor market. Image sensor manufacturers are increasingly focusing on developing automotive-grade image sensor product line with advanced functionalities such as dual conversion gain (DCG) technology, artifact-free motion capture, LED flicker mitigation (LFM), and others.
Regionally, the global CMOS image sensor market is segmented into Americas, Asia Pacific, and EMEA. In 2018, Asia Pacific was the dominant region in the global image sensor market and is expected to remain dominant throughout the forecast period. This is mainly due to Asia Pacific's status as the preferred location manufacturing/assembly of mobile devices by smartphone OEMs across the globe.
 "Rising focus on integrating image sensing technology across various automotive and industrial applications is propelling the growth of CMOS image sensors market." – Delsingh Bright, Sr. Research Analyst, Infoholic Research
Global CMOS Image Sensor Market: Market Segmentation
Global CMOS Image Sensor Market, By Technology

Frontside-illuminated (FSI) CMOS Sensor
Backside-illuminated (BSI) CMOS sensor

Global CMOS Image Sensor Market, By Application

Mobile & Computing
Industrial/Aerospace/Defense
Automotive
Medical
Security & Surveillance
Others

Global CMOS Image Sensor Market, By Geography

Americas
Asia Pacific
EMEA (Europe, Middle East, and Africa)
Contact: