Pharmaceutical Drugs Going off Patent in 2018
Patent expiry is one of the major factor affecting the company revenue. Often when the generic competitor of a blockbuster drugs enters the market, the sales of the blockbuster drugs has decreased significantly. For instance, the patent expiry of Pfizer's Lipitor has resulted in about 90% decrease in the annual sales revenue of the drug. In 2016, Astra Zeneca lost patents for two major drugs, Cestor and Seroquel XR which accounted for a combined revenue of $7.34 billion annually. In 2017, Merck lost the patents for four drugs (Invanz, Vytorin, Cancidas, and Cubicin) that was estimated to value around $3.4 billion, which is 10% of their 2015 revenue.

Here are a few of the key drugs going off-patent in 2018.

| | | |
| --- | --- | --- |
| Brand | Manufacturer | Indication |
| Acanya | Valeant Pharmaceuticals International, Inc | Skin (topical) to treat acne vulgaris |
| Adcirca | United Therapeutics Corporation | pulmonary arterial hypertension |
| Adavir | GlaxoSmithKline | Asthma and COPD |
| Ampyra | Acorda Therapeutics | Multiple Sclerosis |
| Apidra | Sanofi | Diabetes |
| Atripla | Gilead Sciences, Inc | HIV |
| Cialis | Eli Lilly | Erectile dysfunction |
| Epogen/Procrit | Amgen and Johnson & Johnson | Anemia |
| Fentora | Cephalon, Inc | Management of breakthrough pain in cancer patients |
| Finacea | Bayer HealthCare Pharmaceuticals. | Hyperpigmentation |
| Follistim | Merck | Infertility |
| Fortesta | Endo Pharmaceuticals | Hypogonadism |
| Levitra | Bayer HealthCare Pharmaceuticals. | Erectile dysfunction |
| Letairis | Gilead Sciences, Inc | Pulmonary arterial hypertension |
| Lotronex | severe irritable bowel syndrome (IBS) | Sebela Pharmaceutical |
| Lyrica | Pfizer | Nerve and muscle pain |
| Makena | AMAG Pharmaceuticals, Inc | Female Hormone Related Cancer |
| Namenda XR | Allergan | Dementia |
| NuvaRing | Merck | Contraceptive |
| Pradaxa | Boehringer Ingelheim Pharmaceuticals, Inc. | blood thinner |
| Promacta | Novartis | To treat low blood platelet counts due to chronic immune (idiopathic) thrombocytopenia (ITP) |
| Remodulin | United Therapeutics | Pulmonary arterial hypertension |
| Revlimid | Amgen | White blood cell booster |
| Restasis | Allergan | Dry Eyes |
| Rituxan | Roche | Blood cancers, rheumatoid arthritis |
| Sensipar Tablet | Amgen | Calcium Reducer |
| Spiriva | Boehringer Ingelheim Pharmaceuticals, Inc. | Chronic Obstructive Pulmonary Disease (COPD) |
| Staxyn | GlaxoSmithKline | Erectile dysfunction |
| Symbicort | Astra Zeneca | Asthma |
| Tekturna | Noden Pharma USA Inc | Blood Pressure |
| Tikosyn | Pfizer | Irregular Heartbeat |
| Vesicare | Astellas Pharma | Overactive Bladder |
| Xolair | Roche/Novartis | Allergic asthma and chronic idiopathic urticaria |
| Zytiga | Johnson & Johnson | Prostate cancer |
Company wise analysis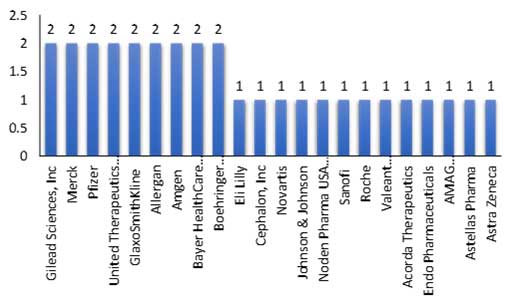 - Rikitha
Healthcare Market Research Analyst
Infoholic Research