Indian Orthopedic Industry
Overview

India is the second most populated country in the world with more than 15% of people suffering from arthritis out of which nearly 40 million people require knee replacement immediately. The Indian orthopedic market is growing at a faster rate when compared with the global growth rate and the primary factors driving the market include increase incidence of osteoporosis and arthritis, demand for minimally invasive surgeries, swiftly growing medical tourism industry, and investments in mid-tier hospitals from the government. The market is expected to grow at a CAGR between 8%–11% in the coming years. In India, 70% of healthcare expenditure is spend by patients out of pocket; and rest 30% is spend by the government. There are about 300 million Indians covered with insurance, while >1000 million depends on government run institutions for orthopedic care. In Indian orthopedic segment, nearly 80% of the procedures are out-of-pocket expenses, which is benefited with increase disposable income. Other driving factors include by increasing spending capacity middle-income group, government benefits and health insurance programs for people below the lower middle-income group, increasing access to healthcare facilities, and advances in the medical infrastructure.

Global Orthopedic Industry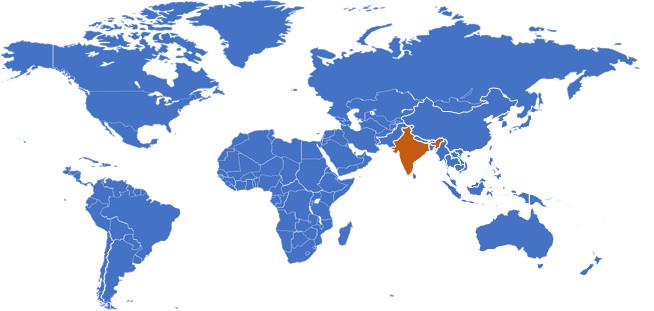 Global Orthopedic Industry 2018: $51.2 billion | Indian Orthopedic Industry 2018: $1.3 billion
The incidence and prevalence of chronic pain related to joints and other musculoskeletal disorders are increasing the application of ortho implants to treat such conditions. The demand for total joint replacement implants is high due to the advancement in bone fusion and the availability of orthobiologics material as they are widely used in motion preservation devices. Vendors such as Stryker, DePuy Synthes, Medtronic, and Zimmer Biomet are having a broad category of product portfolio and are likely to intensify the market competition soon. The advances in technology are driving the market by significantly contributing to the market growth. The introduction of special technologies, techniques, instruments, and procedures has increased the adoption of advanced orthopedic devices. The advanced technology allows ortho-surgeons to treat various orthopedic disorders that were previously considered complex and high-risk through other methods.
Competitive Market Share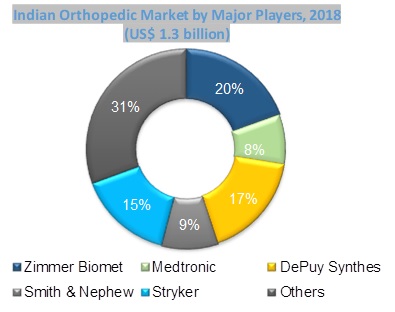 Key Facts
:


The manufacturers are integrating intelligence into their devices and offering real-time insights based on patient data


Most of the medical devices company have considerable profits and are directly connected with large insurance payers that have significant business


Payment bundle rates for medical devices bring opportunity to hospitals, GPOs, and create awareness among many healthcare facilities about the devices


Medical devices help in diagnosing, preventing, and treating of diseases and few devices are implanted inside the body such as cardiac defibrillators


The industry is an essential component of the larger healthcare systems and has a vital role in developing new medical technologies that focus on improving the ability to offer treatment


International trade has a significant role as medical devices are majorly exported and US has the maximum production of medical devices


Advancements in technology have a major impact on the devices market resulting in high efficiency, prevention, and minimally invasive treatment options for individuals who want to spend less time in hospitals


Innovation
:
Development in extremities especially lower extremities has brought drastic transformation in the Indian orthopedic industry. With growing governmental schemes and increasing translational research centers focused laboratories such as Biotechnology Industry Research Assistance Council (BIRAC), Technology Development Board, and Global Innovation & Technology Alliance (GITA). The approval in Gujarat Food and Drugs Control Administration (FDCA) plea for setting the country's first government biocompatibility and medical devices testing lab. Ayushman Bharat scheme is going to establish itself as the largest health scheme in India by benefiting more than 10 lakh patients since its launch and recently NATHEALTH has extended support to implement the scheme to provide health insurance to more than 10 crore poor families across the country.
Conclusion
:
Increase funding for early stage med-tech companies and products that are in last stage of market entry is expected to see a lucrative growth in the market. The global leaders are expected to attract huge market growth offering 20% of market share. This will enhance the inorganic growth and support the international projects that bring tremendous change in technology and products. Hence, the evolving market is attracting the Indian companies and global companies to adapt their strategies to grow towards the latent market.
– Mohammed Azhar
Senior Research Analyst
Infoholic Research