Blockchain in Energy Management
Blockchain is a prominent form of sharing data, information and confirming business transactions happening across energy stakeholders. It's a distributed innovation technology that is shared among energy stakeholders on a chain of digital "blocks" along with a decentralized system. However, an energy management system is a framework utilized by resource administrators and managers of electric utility grids to better monitor, control and optimize energy performance. This energy management system is primarily used to reduce energy costs and enable enterprises reach sustainability goals by collecting real-time information on their energy consumption by monitoring, assessing and analysing usage.

Blockchain technology enable energy companies with the potential to analyse their energy consumption with greater accuracy and efficiency, store the information gathered and validate energy consumption and savings in real-time. Moreover, blockchain technology vendors offer a new solution to record and monetize carbon credits. Blockchain technology can also provide more proficiency, more control, and greater security for the energy stakeholders.

Sample Blockchain enabled energy trading platform –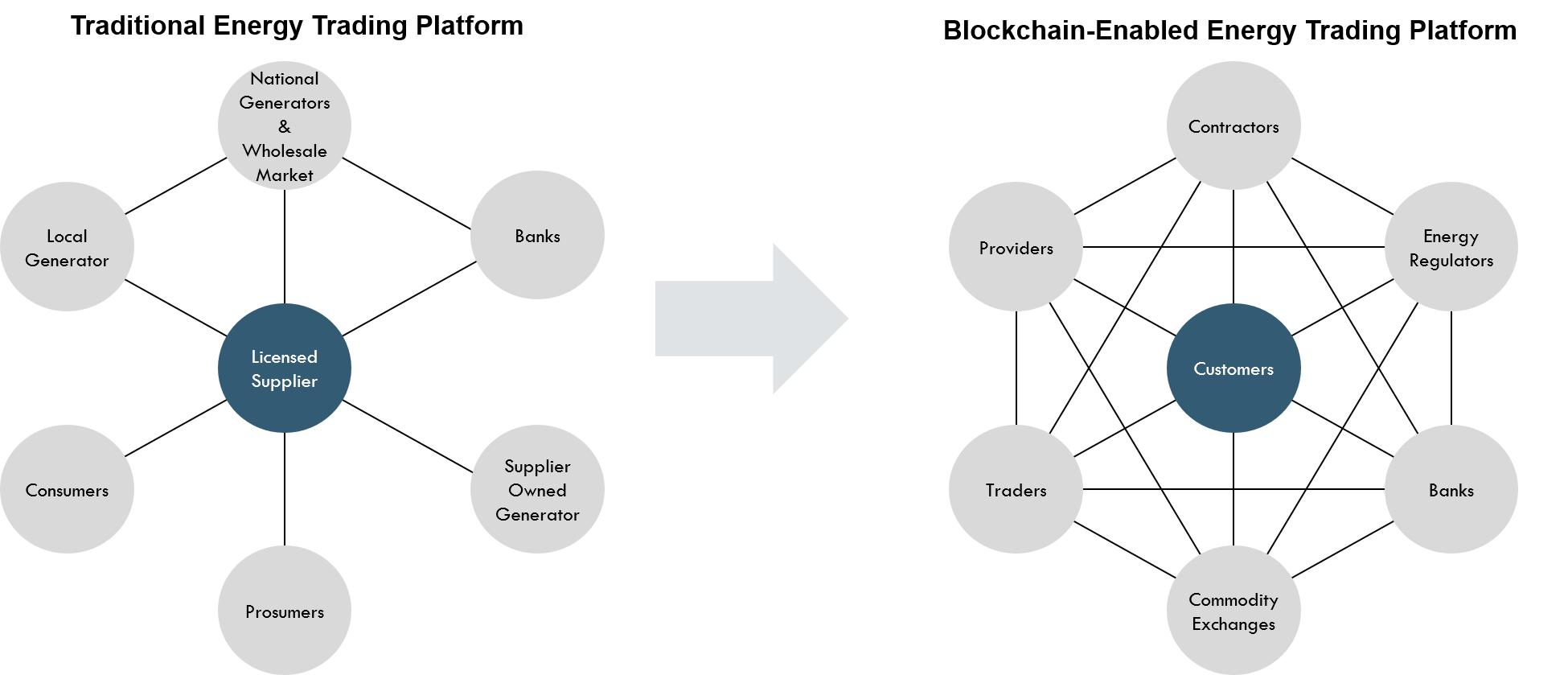 The following are some of the issues blockchain technology can address:



Energy Supply chain challenges – Blockchain technology enables data transparency by bringing stakeholders on to single platform and mitigating compliance issues. The technology also helps to decrease fraudulent activities by providing better encryption levels for transactions and maintaining an audit track of incidents.


Inefficiencies in energy transactions – Blockchain technology enables faster transactions by streamlining transactional processes while reducing risk of fraud and invalid transactions. As per estimates, companies can save up to 30% or more of process costs by eliminating intermediary costs.


Management of grid and local electricity trading – Blockchain technology can bring all energy providers and consumers on to a single platform, where they can buy and sell energy using cryptocurrency or other trading manner. This process offers a secure payment system, which is transparent to stakeholders in the network and enhances grid security.


Currently, Blockchain is most frequently used in cryptocurrency, yet it has numerous other business applications such as in Fintech, Supply Chain Management, Food Services and Health. In businesses and enterprises that experience multiple layers of complexity, low transparency and inefficiency, blockchain provides a real-world solution.
Pradeep Singh,
Sr. Research Analyst,
Infoholic Research