2017 Life Science Deals
Looking back at 2017

The year of 2017 has been dynamic, and a lot of activities have supported the life science market growth. This year has not been great for the business deals in US, however, the European counterparts have been more active when compared to US. This was due to the effect of tax reforms made in the Trump administration that has been replacing the Affordable Care Act. The total deal value in the US region has greatly decreased up to 30% in 2017. Whereas, the European region witnessed an increase in the deal by 23% over 2016. This was emphasized by acquisition of Actelion, a pharmaceutical company based in Switzerland by Johnson & Johnson for $30 billion.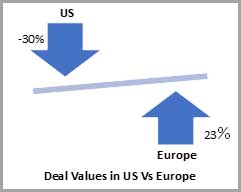 Oncology has been the largest drug segment in the global market due to the advancement in precision medicine treatment. For instance, Gilead Sciences acquired Kite Pharma, Inc attentive on chimeric antigen receptor (CAR) and T cell receptor (TCR) engineered cell treatments intended to improve the immunity of the person and destroy tumours.

Leading companies are increasingly showing interest in acquiring the Contract research organizations (CRO's) in 2017. According to Bloomberg, in 2016 the CRO's industry involved an amount of $24 billion. One of the big deals was the acquisition of Quintiles by IMS Healthcare's.

Prominent deals of 2017 include:



Pamplona Capital Management completed the acquisition of Parexel International for a total of $5 billion transaction by September 2017.


In June 2017, Carlyle Group and GTCR acquired Albany Molecular Research Inc for a total of $922 billion.


A Japanese CRO, Integrated Development Associates was acquired by in May 2017.


In May 2017, INC Research Holdings and InVentiv Health merged to form Syneos Health for a deal value of $4.6 billion.


- Rikitha
Helathcare
Market Research Analyst

Infoholic Research