Europe Process Orchestration Market Forecast 2019–2025
February, 2020

Domain:

ICT

-

Software & Services
Pages:
Tables:
Charts:
Regions/Countries:
Companies:
Enquiry Hours:
Get

Free 10% Customization

in this Report
Process orchestration is a software infrastructure used to design, execute, and manage a business process throughout its lifecycle. Orchestrator operates by executing a series of defined actions called tasks. These tasks are connected and series in nature, the input of one task is the output of a previous task, which helps build a workflow to automate various business processes. Process orchestration is an IT process automation tool that enables organizations to automate the complex multi-system tasks, which will allow organizations to automate processes at any level of complexity in their physical as well as virtual infrastructure. Process orchestration can automate a wide range of tasks, which include employee onboarding, server management setting up storage, network resource, managed file transfers, user access rights, and activities related to security operations orchestration.
Market Dynamics – Europe Process Orchestration Market
Process orchestration acts as a foundational component of an intelligent automation platform for any organization to create and manage a digital workforce to enhance operational efficiency. Increasing investment in automaton solutions along with the growing focus on optimizing the error-prone inefficient processes is the key factor contributing to the growth of the Europe process orchestration market.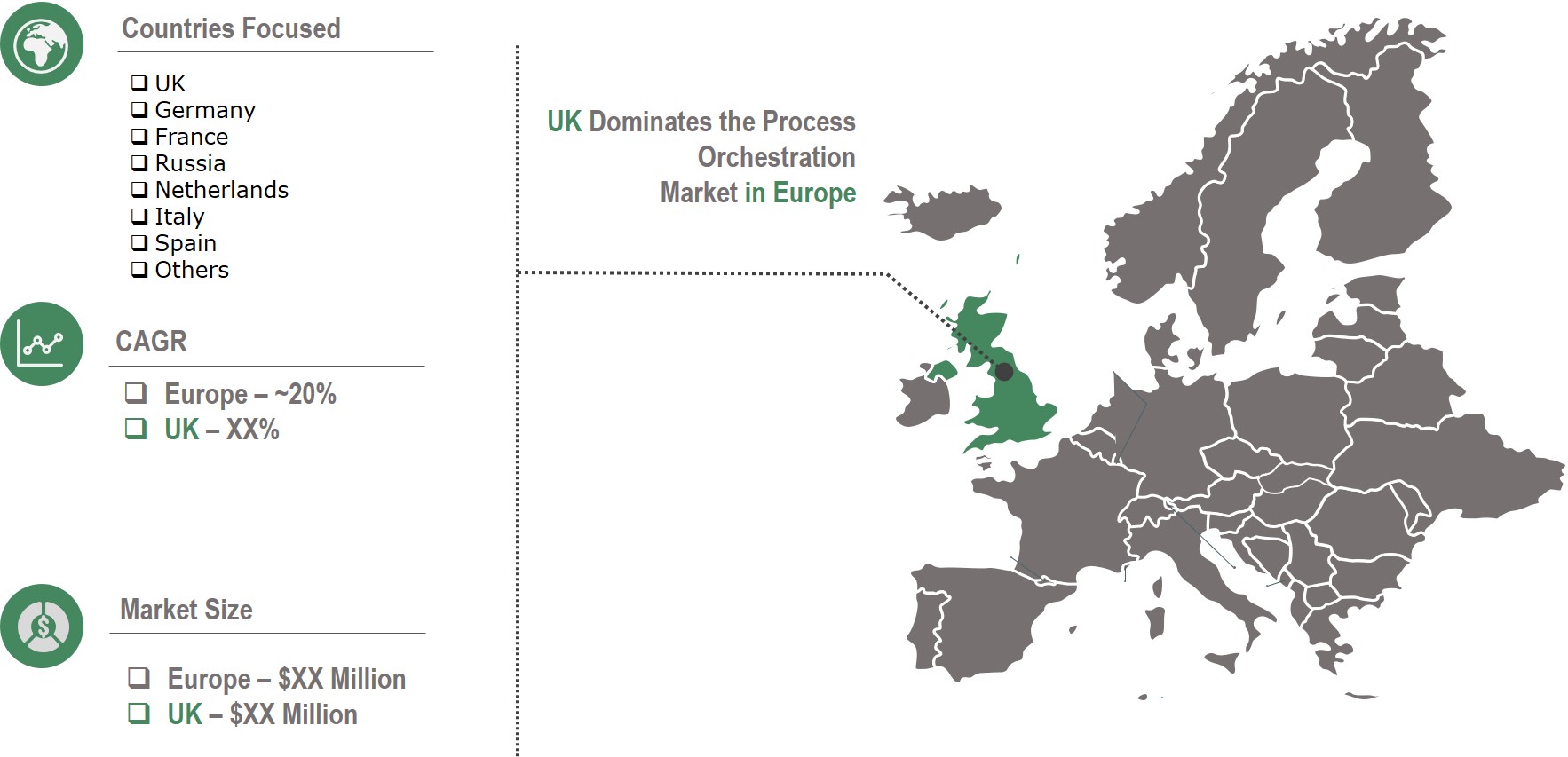 An increasing number of regulations coupled with growing focus on minimizing the legal and regulatory burdens by incorporating advanced rule-based software solutions that enhance the enforcement of corporate policies and legal regulations are propelling the growth of the Europe process orchestration market during the forecast period. Meanwhile, growing focus on increasing process speed to shorten the time-to-market and rising need to enhance transparency in business operations are the factors fuelling the growth of the Europe process orchestration market during the forecast period. However, concerns related to complexity in integrating with the existing business process are identified as restraints likely to deter the progression of the Europe process orchestration market during the forecast period.
Market Segmentation – Europe Process Orchestration Market
The Europe process orchestration market is segmented based on component, deployment type, business function, industry, and by country. Based on components, the Europe process orchestration market is segmented into software and services. The services segment is sub-segmented into consulting, implementation, support and maintenance, and training and education. Based on the deployment type, the Europe process orchestration market is segmented into on-premises and cloud. Based on business function, the Europe process orchestration market is segmented into supply chain management, finance and accounts, operations and customer care, and sales and marketing. Based on industry, the Europe process orchestration market is segmented into manufacturing, telecom and IT, BFSI, energy and utilities, consumer goods and retail, and others.
Country-level Outlook – Europe Process Orchestration Market
In terms of country-wise analysis, the Europe process orchestration market is segmented into UK, Germany, France, Russia, Netherlands, Italy, Spain, and Others. Among these countries, UK followed by Germany dominates the Europe process orchestration market and is anticipated to maintain its market dominance throughout the forecast period. This is mainly due to the increasing adoption of advanced technologies such as IoT and AI; the regulatory environments become increasingly more complex. As a result, the companies are heavily investing in process automation solutions to streamline the legal and regulatory processes.
Benefits and Vendors – Europe Process Orchestration Market
The study on Europe process orchestration market contains an in-depth analysis of vendors, which includes financial health, business units, key business priorities, SWOT, strategies, and views; and competitive landscape. Few of the key players profiled in this study include SAP, Oracle, IBM, Cisco, Microsoft, Data Ductus, Cortex, Enate, Comidor LTD, and Software AG.
The study offers a comprehensive analysis of the "Europe process orchestration market". Bringing out the complete key insights of the industry, the report aims to provide an insight into the latest trends, current market scenario, and technologies related to the market. In addition, it helps the venture capitalists to understand the revenue opportunities across different segments to take better decisions.
Executive Summary
Industry Outlook

Industry Overview
Industry Trends

Market Snapshot

Total Addressable Market
Segmented Addressable Market
PEST Analysis
Porter 5 (Five) Forces
Related Markets

Market Outlook

Overview

Market Characteristics

Evolution
Market Segmentation
Market Dynamics

Drivers
Restraints
Opportunities
DRO – Impact Analysis

Component: Market Size & Analysis

Overview
Software
Services

Consulting
Implementation
Support and Maintenance
Training and Education

Deployment Type: Market Size & Analysis

Overview
On-premises
Cloud

Business Function: Market Size & Analysis

Supply Chain Management
Finance and Accounts
Operations and Customer Care
Sales and Marketing

Industry: Market Size & Analysis

Manufacturing
Telecom and IT
BFSI     
Energy and Utilities
Consumer Goods and Retail
Others

Country: Market Size & Analysis

Overview
UK         
Germany
France
Russia
Netherlands
Italy
Spain
Others

Vendor Profiles

SAP       
Oracle
IBM       
Cisco
Microsoft

Companies to Watch for

Data Ductus
Cortex
Icaro Tech
Enate
Comidor LTD
Software AG

Competitive Landscape

Competitive Comparison Analysis

Annexure

Report Scope
Research Methodology

Data Collation & In-house Estimation
Market Triangulation

Report Assumptions
Abbreviations
Research Framework
Infoholic research works on a holistic 360° approach in order to deliver high quality, validated and reliable information in our market reports. The Market estimation and forecasting involves following steps:
Data Collation (Primary & Secondary)
In-house Estimation (Based on proprietary data bases and Models)
Market Triangulation
Forecasting
Market related information is congregated from both primary and secondary sources.
Primary sources
involved participants from all global stakeholders such as Solution providers, service providers, Industry associations, thought leaders etc. across levels such as CXOs, VPs and managers. Plus, our in-house industry experts having decades of industry experience contribute their consulting and advisory services.
Secondary sources
include public sources such as regulatory frameworks, government IT spending, government demographic indicators, industry association statistics, and company publications along with paid sources such as Factiva, OneSource, Bloomberg among others.