What is a security operations center?
What is a security operations center?

As per definition, security operations center (SOC) is a facility within an organization, which houses the information security team. It aims towards protecting an organization from any sort of security breach. A team of security analysts, security engineers and management set out to identify, analyze and react to cyber security threats. Earlier, SOC used to be only a part of bigger organization, however with the rising demand for SOC, even small organizations are making it a part of their operation. Be it a complete SOC or a hybrid one, part-time in-house staff or outsourced experts or a virtual one, all serves the same purpose.

Get the sample copy of SOC Market Report @ https://www.infoholicresearch.com/request-a-sample-report/?repid=13812

How does SOC work?

In order for the SOC to work properly, the security strategy of the organization must be defined first, followed by a suitable infrastructure. The information system that follows the base of SOC, deals with security information and event management. It collects logs and events from security tools to generate actionable security alerts. In order to setup an SOC, an organization needs to ensure that all the employees are aware of the concept of SOC. There should be a robust infrastructure and skilled resources to manage the facility. In SOC, there will be an incident response team to create a detailed action plan to be followed.

A typical SOC team



Security analyst detects potential security threats and implement security measures along with disaster recovery plans.


Security engineer holds the responsibility to maintain and update tools and systems along with documentation to create protocols.


SOC manager takes care of the overall operation: hiring, training, and security strategy and also ensures synchronization between analysts and engineers.


Chief information security officer (CISO) works closely with the CEO and creates strategies and policies to be followed.


Director of incident response manages incidents in large companies, along with communication regarding significant breach.


Responsibility of SOC team
The SOC team is bestowed with the following responsibilities: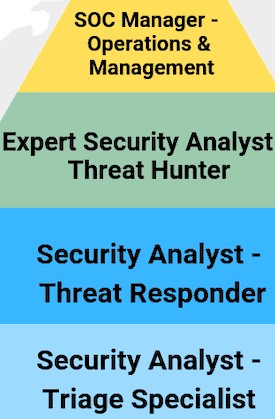 The team should be aware of the tools, technologies, hardware and software that will be required to identify and prevent security issues


The SOC team maintains security monitoring tool of the organization. Regular updating and maintenance of the tool is necessary for security of systems and network.


The SOC team should be able to locate any suspicious or malicious activity within the network. The team then analyzes and examines the alert to understand its intensity and impact on the overall operation of the organization.


SOC team is accountable to record activity and communication so that in case of a security incident, the analysts can trace back to fix the issue.


A dedicated team of professionals collect data and prioritize incidents and manage the entire process comprehensively.


The team is also liable with the maintenance of compliance. The compliance auditor of the team ensures regulatory standards.


Benefits of SOC
There are certain benefits which make it absolutely necessary for all organizations to maintain a SOC facility.


SOC is operational 24*7, detecting and responding to incidents, delivering convenience.


SOC uses threat intelligence to understand and analyze incidents and create appropriate response.


Despite the initial expense of making SOC operational, it ensures cost effectiveness in the long run.


It also helps to reduce the complexity involved in investigation. It can coordinate with information and data from different sources such as network, security events, endpoint data activity etc. This simplifies the task of gathering information.


Challenges faced while setting SOC1. Increase in number of security alerts
With the increase in the number of security alerts, it requires constant monitoring and attention of the analyst. Thus, arises the requirement of alert prioritization which can ensure that the analyst focusses on the alert that needs immediate attention.
2. Managing security tools
SOCs normally uses many technologies which becomes difficult to track and manage manually. Thus, a central source or a single platform can make the process seamless.
3. Allocation of resource
Appropriate skill is essential so, lack of qualified staff creates hindrance to completion of the task efficiently. The same issue prevails when organizations tend to outsource the task.
Access full report summary
@
https://www.infoholicresearch.com/report/security-operations-center-market
Conclusion
The security threats are growing each day and thus, the presence of SOC is a real help to organizations. It is always advantageous to have a team of dedicated information security professionals who will monitor the organization's network, detect any security threat and keep the sensitive data secured, consequently liberating the enterprise's operation.
– Kathakali Basu
Content Writer
Infoholic Research