Chemical Industry amid COVID-19
There is a lot has been written by various agencies on the situation and possible steps to be taken In ongoing pandemic situation. Although the information is not scarce, there are not much specific details available from Chemical Industry scenarios. COVID-19 has infected more than 1.8 million people along with death of more than 114,000 people before second week of April 2020. It has been reshaping the economic scenario of many countries, at least in short term. The developed Western European countries and the US have been struggling to contain the virus, while the world organizations have been forecasting a global recession. The companies are still assessing the potential impact on market demand from production outages, supply chain disruptions and public lockdowns. Let us try to assess the current situation and potential impact on the global chemical industry.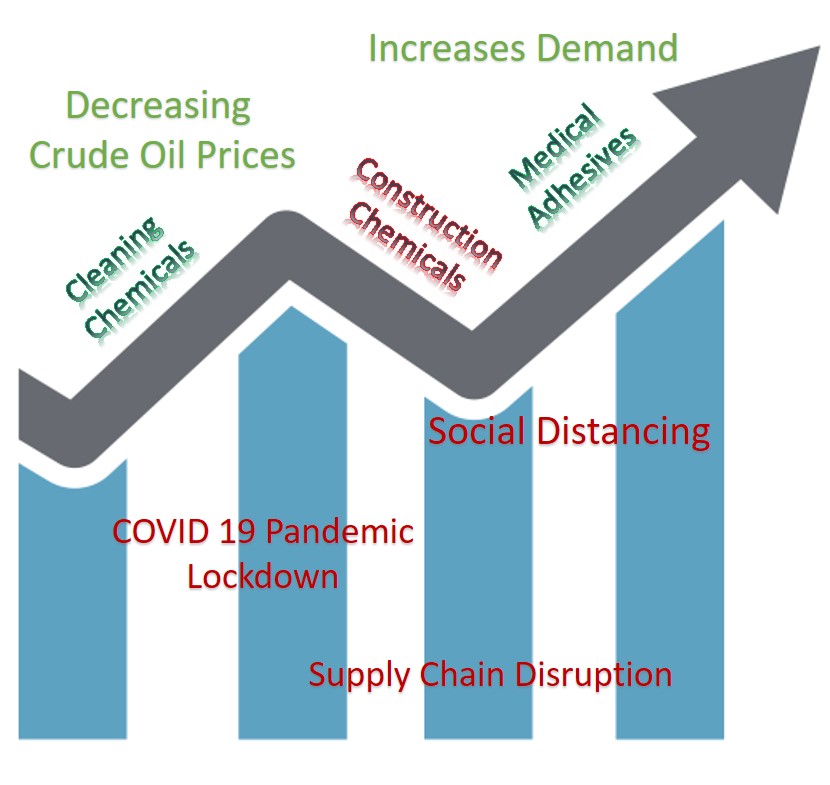 Key Macro Parameters Defining Current Scenario
Lockdowns: The lockdown is being seen as one of the influential steps for limiting the impact. Various countries are enforcing public lockdown impeding the activity of most of manufacturing industries, including chemicals. This has disrupted the supply-chain dynamics while creating significant disruption in the financial sustainability.
Increased Essential Requirements: COVID has abruptly increased the demand for many household essential products, especially in cleaning and hygiene products. On one side where numerous alcoholic beverage companies have been making and distributing hand sanitizers, many core chemical companies, such as DSM, have also been contributing towards their part. The demand for soaps and handwashes has jumped more than 20% while similar jump is expected in medical adhesives, medical polymers and anti-microbial coatings among others. This has made imperative for many chemical companies to not only continue operations, but to extend it to fulfil the increased demand.
Crude Oil Price Disruption: The international crude oil prices have plummeted since OPEC+ meeting crashed with Russia deciding to move along with open market. Since then, the heavy discounting by Saudi Arabia resulted the prices to crash the $30 barrier. Although OPEC and Non-OPEC ministries meeting on 9th April agreed for some production cuts, the overall demand loss from COVID hit economy has kept the prices at lower range.
Social Distancing: The social distancing norms have not only increased the production problems, but also has erected the mental barrier in employees, impacting productivity. The operational plants and organizations have been trying hard to keep the operations going while ensuring the good health among their employees.
Although the chemical industry is known for adjusting to disruptions and market dynamics, present situation is unprecedented. The organizations need to rethink their strategies to align their priorities in this crisis situation to not only sustain through these difficult times, but to emerge as leader in the aftermath. In our next column, we will share key focus areas and necessary steps for various branches of chemical industries to help them steer through the challenging times. Please keep an eye for the same on this website.
– Ankur Kalra
Chemicals & Materials - Research Manager
Infoholic Research